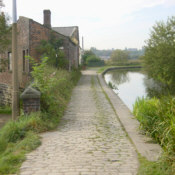 The Manchester, Bolton and Bury Canal ran from Salford to Prestolee, near Little Lever, from where one arm ran to Bolton and another to Bury.
The 15 miles of canal had 17 locks, including 4 staircases of two or three locks together. Two of its major aqueducts are still standing.
It connected to the River Irwell in Manchester.
A spectacular breach in 1936 led to the canal's eventual closure.
The canal is expected to be restored in the next few years.
The first section of the canal from the River Irwell has now been re-opened as part of the Middlewood development.