The photos on this page were taken in February 2005. Photos showing the progress of restoration in November 2007 are here.
Photos of the completed section of canal taken in 2008 can be found here and photos of the first boats on the newly restored canal section are here.
The canal was originally built from 1791 to 1796 between Bolton, Bury and the basins at Oldfield Road, Salford. It wasn't until 1808 that a further five locks were build between Oldfield Road and the River Irwell.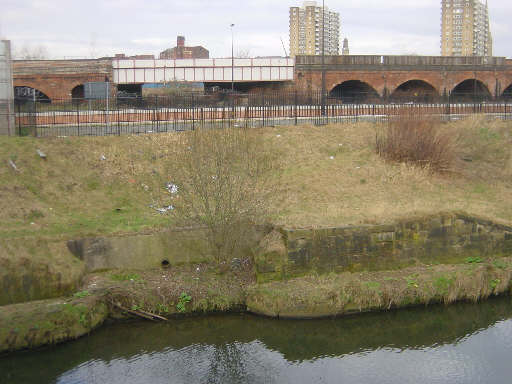 The former junction with the River Irwell at Salford. The slight indentation shows where boats went under "Bloody Bridge" and into the staircase Locks 1 and 2. The canal then passed under the railway bridge in the background.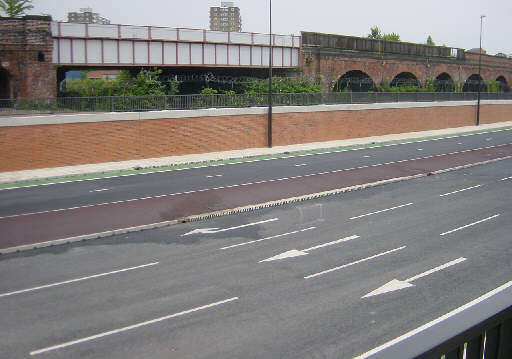 Trinity Way, part of the Manchester and Salford Relief Road, now crosses the line of the canal on the site of the former Locks 1 and 2. Provision has been made for the canal to pass under this road to new locks beyond. The line of the canal is shown by a change in the drainage holes in the kerbstones.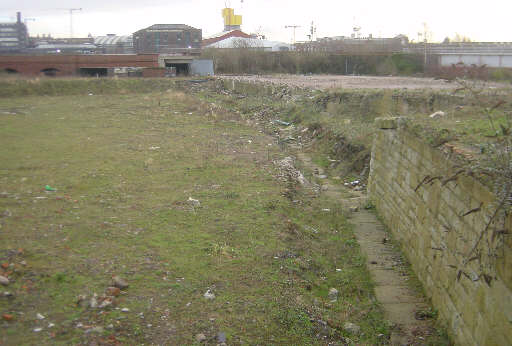 Looking back towards the railway bridge from East Ordsall Lane. The surrounding site has been levelled and the line of coping stones along the edge of the canal have been excavated, showing the route of the canal.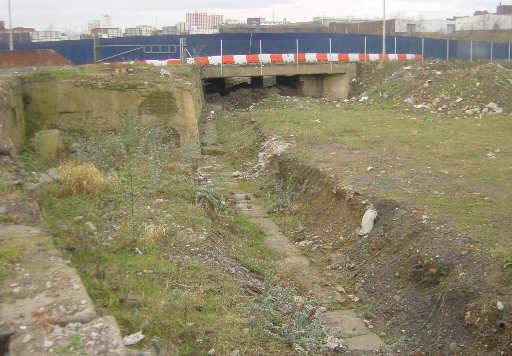 Looking towards East Ordsall Lane bridge.