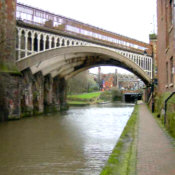 Canals were at the heart of the development of industrial Manchester. They enabled coal and raw materials to be carried right to the heart of the city and finished goods to be transported away easily.
The Bridgewater Canal, one of the earliest modern canals, ran into Manchester. Later, other canals radiated outwards from the area and the Ship Canal brought sea-going vessels close to the city centre.
The waterways of the area are now chiefly used for recreation and leisure. Canals which had once been disused and neglected are being restored. The waterways of Manchester and Salford are playing a vital part in the regeneration of the area.
The historic Castlefield area now offers extensive and attractive moorings for visitors, within easy reach of the city's facilities.