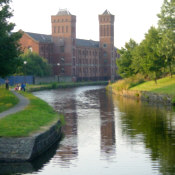 The Leeds and Liverpool Canal is the longest canal in Northern England at 127 miles long. It passes through 91 locks with a summit level of 487 feet.
At Leeds, it joins onto the Aire and Calder Navigation. The Rufford Branch links the canal with the Ribble estuary near Preston. This gives access to the Ribble Link and the Lancaster Canal.
The Leigh Branch runs from Wigan to connect with the Bridgewater Canal..
In Liverpool an extension has been constructed from the Stanley Dock Branch, by way of the Pier Head, to Albert Dock.
More about Liverpool Canal Link.
See photos of official opening.