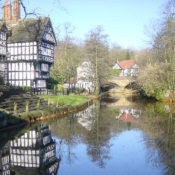 The Bridgewater Canal runs from Leigh to Runcorn. It connects with the Leeds and Liverpool Canal at Leigh.
A short arm connects with the Trent and Mersey Canal at Preston Brook. An arm from Stretford runs to Manchester, connecting with the Irwell Navigation via Pomona Dock and with the Rochdale Canal at Castlefield.
The 40 miles of canal is unusual for having no locks along its length.
A notable feature of the canal is the Barton Swing Aqueduct across the Manchester Ship Canal.