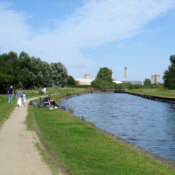 The Sankey Canal ran for around 15 miles from St Helens in Lancashire to Widnes in Cheshire, with short branches to Blackbrook and Gerrard's Bridge.
It was a broad canal with 7 single locks and two 2-rise staircase locks as well as two tidal locks onto the Mersey estuary.
The canal was closed in stages by 1963 as trade died off. The Sankey Canal Restoration Society is seeking to re-open the canal.