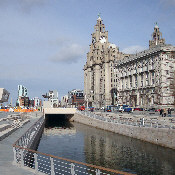 The Liverpool Canal Link extends the Leeds and Liverpool Canal by way of Liverpool's Central Docks and Pier Head to the South Docks.
The Link gives boaters an outstanding destination close to the city centre.
It is a broad canal with 2 new locks as well as the 4 locks on the Stanley Dock Branch that gives access to the Link.
The link was opened to regular traffic in April 2009.
(Any boats crossing the Mersey to Eastham will now need to pass along the new Canal Link, through the South Docks and exit at Brunswick Lock. Arrangements for using this lock need to be made through Liverpool Marina. There are strict requirements which must be met by boats entering the Manchester Ship Canal.)