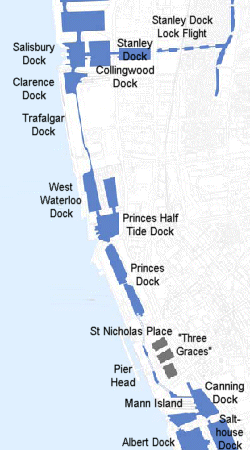 Route of Liverpool Canal Link (based on BW map)
Work is now complete on the construction of the new Liverpool Canal Link - the extension of the Leeds & Liverpool Canal across Pier Head in front of the world famous Three Graces and into South Docks.
British Waterways is currently undertaking a programme of testing and commissioning before allowing boaters to use the link.
New finger pontoons have been installed in Salthouse Dock, adjacent to Albert Dock, providing visitor moorings for up to 40 narrowboats and 4 wide beam boats. These will have water and power.
Boaters wishing to take their boats to Liverpool should contact BW's Wigan office (01942 405700) to book a passage from Maghull to Liverpool and to book a mooring space. There is already a waiting list. The link is expected to open to boaters around the end of April or beginning of May, although a date has not yet been finalised.
See new photos of the Liverpool Canal Link.
This page and the pages that follow show the route of the canal link before work on construction started. The links at the foot of the page take you to photos of the work underway and the latest photos.
Currently the navigation along the canal ends next to the Tobacco Warehouse at Stanley Dock. The link will open up another 1.4 miles of navigable waterway to canal going craft and will provide a new focal point at Pier Head. The South Docks, which include the famous Albert Dock, will provide an exciting destination for boaters, giving them a good reason to travel along the canal right into Liverpool.
The Canal Link is planned to open following the city's 800th anniversary, and in readiness for the Capital of Culture celebrations in 2008. The Liverpool Canal Link project will support the continuing regeneration aims of partner organisations for the Liverpool Waterfront, and through north Liverpool and south Sefton.
The link would create a navigable channel across the Pier Head between Princes Dock and the South Docks.
Below is a virtual tour of the route as it is before construction begins.