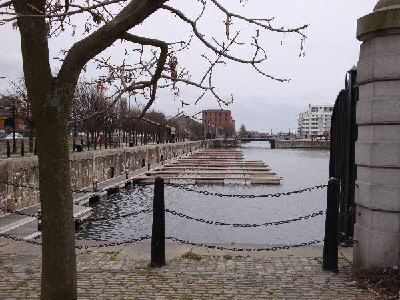 Pontoon moorings in Salthouse Dock, Liverpool.
Information on this page is a guide only and details may have changed. The arrangements that British Waterways makes for boats visiting Liverpool change from time to time so you should check the current arrangements with British Waterways' Wigan office (01942 405700). Official British Waterways information, including a Skippers Guide and booking form can be found on the Waterscape website.
An important point for boaters hoping to take their boats to Liverpool to know is that they must contact BW's Wigan office (01942 405700) to book a passage along the canal into Liverpool and to book a place on the mooring pontoons in Salthouse Dock. At busy periods there mnay be a waiting list so booking well in advance is recommended.
At one time boaters had to wait at Bridge 16 in Maghull for BW staff to operate 7 swing bridges. This has now changed and boaters operate 5 of these bridges themselves and will now wait for their assisted passage at Bridge 9 (Wango Lane). BW staff will now only operate the two very busy swing bridges at Wango Lane and Netherton.
The passage into Liverpool is now done in one day. BW staff will meet and assist boats down the 4 locks of the Stanley Dock Branch and the two new locks at Princes Dock and Mann Island.
Boaters requiring Elsan facilities should call at Litherland boaters' facilities on their way through, as there are no Elsan facilities in Salthouse Dock itself.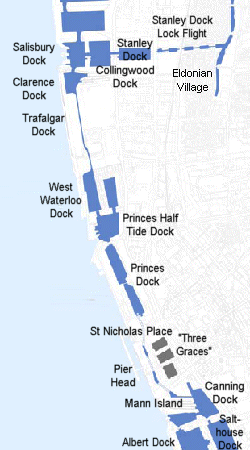 Route of Liverpool Canal Link (based on BW map)
Boats travelling back up from Liverpool will also be assisted up through the locks and the two busy swing bridges.
The assisted passages will operate 6 days a week.
Inward passage towards Liverpool will be on Sundays, Wednesdays and Fridays, starting at 9.00 am.
Outward passage from Liverpool will be on Mondays, Thursdays and Saturdays, starting at 9.00 am.
Only six boats a day in each direction will be allowed through the assisted sections. The main limiting factor will be the number of berths available on the mooring pontoons. If more boats were allowed through each day there would not be enough moorings available.
Boats will be able to moor at Salthouse Dock for up to 12 days. Water and electricity will be available on the pontoons. There will be no mooring charge.
Special arrangements have been made with the Bridgewater Canal Company that will allow Bridgewater licensed boats an extension in the time they are allowed onto BW waters to enable them to take full advantage of the new moorings.
The moorings in Salthouse Dock are extremely convenient, with Paradise Street bus station just a couple of minutes walk away across the main road. John Lewis and the new Liverpool One shopping area are only 5 minutes or so walk. The nearby Albert Dock is home to the Tate Gallery, the Beatles Story, the Maritime Museum and a number of shops and eating places. The new Liverpool Museum at Mann Island opens in 2010.
Boaters phoning Wigan to book a journey to Liverpool will be sent a skipper's guide containing all the necessary information. (Downloadable from Waterscape.)
If you are thinking about approaching Liverpool from the Ship Canal and Eastham Lock you MUST phone BW's Wigan office (01942 405700) to book a mooring in Salthouse Dock. If you do not do this you may have to pay for a mooring in Liverpool Marina, which charges by the foot, making it expensive for narrowboats! Entry from the River Mersey is via Brunswick Dock. You need to telephone Liverpool Marina to arrange this and there is a charge for using the lock. Boats using the Ship Canal must meet their very strict requirements.