Opened in 1894, the Manchester Ship Canal was one of the last major canals to be constructed in Britain. It stretches for 36 miles from Eastham, on the southern shore of the Mersey estuary 6 miles from Liverpool, almost to the centre of Manchester.
The Mersey and Irwell Navigation was opened in 1740, enabling boats to navigate from Liverpool right up to Manchester. In 1882, a meeting of Manchester businessmen resolved to create a canal to enable sea-going ships to reach Manchester, so that Manchester industry could compete with other areas by avoiding the high charges for using rail transport and Liverpool Docks. The proposals were bitterly opposed by Liverpool and the railway companies but, in 1885, Parliament passed a bill approving the plan.
As the canal would use much of the route of the Mersey and Irwell Navigation, the promoters needed to buy it along with the Bridgewater Canal which now owned it. It was necessary to replace Brindley's historic stone aqueduct, across the Irwell at Barton, with the Barton Swing Aqueduct, which was as pioneering a structure as Brindley's had been in its day. In addition to the swing aqueduct, the Ship Canal has seven swing road bridges, four high level road bridges, five high level railway viaducts and five sets of huge locks - Eastham, Latchford, Irlam, Barton and Mode Wheel.
Now take a journey in photos along the Manchester Ship Canal....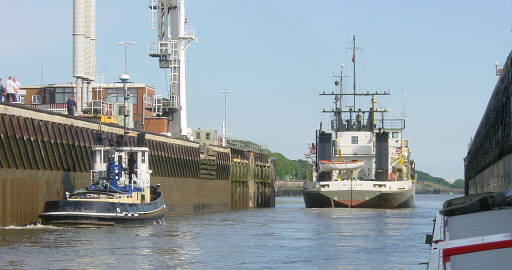 Boats leaving Eastham Lock at the western end of the Manchester Ship Canal.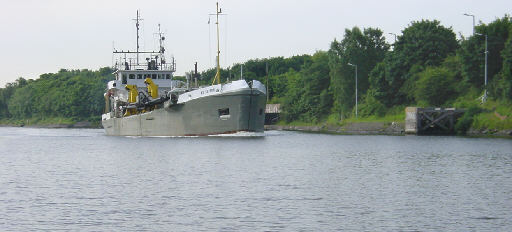 Between Eastham and Ellesmere Port on the Manchester Ship Canal.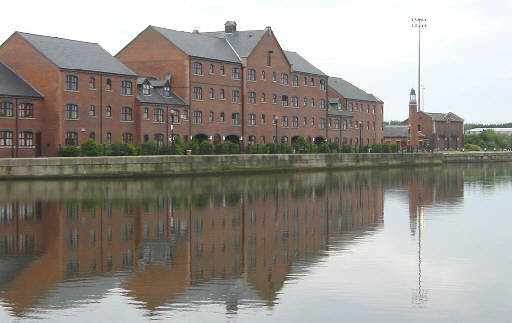 Waterside apartments overlooking the Ship Canal and the Mersey Estuary at Ellesmere Port.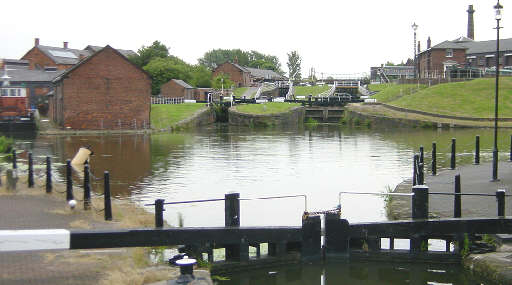 The locks at the northern end of the Shropshire Union Canal, surrounded by the buildings of the Boat Museum at Ellesmere Port, just a few yards from the Ship Canal.
<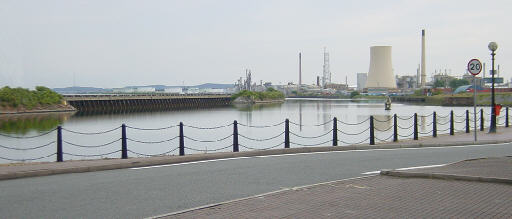 Waterfront overlooking the Ship Canal at Ellesmere Port, looking towards Stanlow refinery.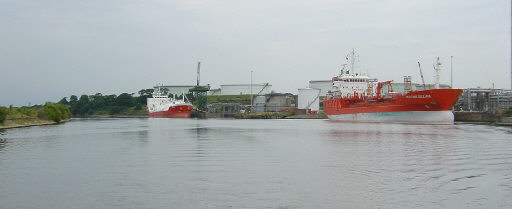 The LPG carrier York and tanker Balearia moored alongside Ince oil berth.
Click here to go to Manchester Ship Canal, page 2.