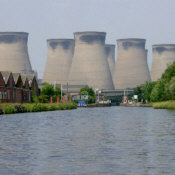 The Aire and Calder Navigation runs for 33 miles from Leeds to Goole, with a branch of 7.5 miles from Wakefield to Castleford.
It had 8 locks spaced out between Leeds and Goole, 3 locks on the Wakefield branch and also a number of flood locks.
The canal was never closed and is still used by a small amount of commercial traffic in addition to a fair number of leisure craft.