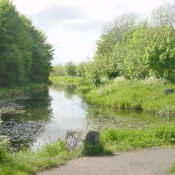 The Barnsley Canal ran from the Aire and Calder Navigation, east of Wakefield, to Barugh, via Barnsley, Yorkshire, UK.
It was 16 miles long and had 20 locks and had a junction near Barnsley with the Dearne and Dove Canal.
The canal closed in 1953 following many problems with mining subsidence. The Barnsley Dearne and Dove Canals Trust is seeking to re-open the canal.