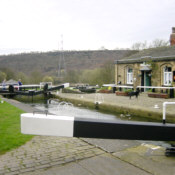 The Calder and Hebble Navigation runs for 21 miles from Wakefield to Sowerby Bridge, Yorkshire.
It had 27 locks and a number of flood locks.
It connects the Aire and Calder Navigation at Wakefield with the Rochdale Canal at Sowerby Bridge and Huddersfield Broad Canal at Cooper Bridge.
The canal was never closed and is a popular waterway with leisure boaters.