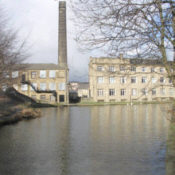 The Bradford Canal ran for 3 miles southwards from the Leeds and Liverpool Canal at Shipley to the centre of Bradford, West Yorkshire, UK.
It had 10 locks, arranged as one 3-rise staircase, 3 2-rise staircases and one single-rise lock.
The Bradford Canal closed to navigation in 1922.
The site features a Virtual Journey along the original Bradford Canal route.