The Huddersfield Broad Canal runs between the Huddersfield Narrow Canal in the centre of Huddersfield to the Calder and Hebble Navigation at Cooper Bridge.
The Huddersfield Broad Canal was originally known as the Cooper Canal, as it branched off the Calder and Hebble Navigation at Cooper Bridge. It was later known as Sir John Ramsden's Canal, after the Lord of the Manor and main land-owner. It later became known as the Broad Canal to distinguish it from the Narrow Canal.
It was opened in 1776 and proved to be a lifeline for the rapidly developing textile industry in Huddersfield, bringing in coal and shipping out finished textiles.
Perhaps the most interesting feature on the canal is the lift bridge at Quay Street, Huddersfield. There was originally a swing bridge here and the location is still known as Turnbridge. It is now more commonly known as Locomotive Bridge, perhaps because the extraordinary mechanism of the lift bridge installed in 1865 resembled an early steam locomotive. Until recently this bridge was windlass-operated although it is now electric.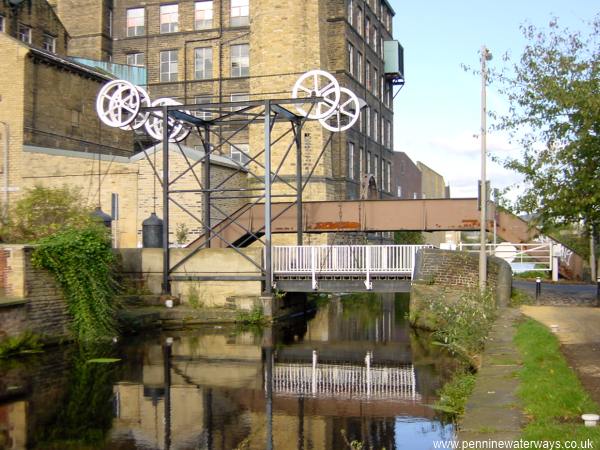 The Locomotive lift bridge, Huddersfield Broad Canal.
The canal is around 4 miles long with nine locks.
It ran originally from Cooper Bridge to Kings Mill, Firth Street, where it joined the River Colne. The Huddersfield Narrow Canal was fully opened in 1811, linking the southern end of the Broad Canal, just north of Kings Mill, with the Ashton and Peak Forest Canals at Ashton under Lyne on the Lancashire side of the Pennines.
The Narrow Canal was abandoned in the 1950s and the section of the Broad Canal from Aspley Basin to Kings Mill was abandoned after Wakefield Road was widened.
The section to Lock 1 of the Narrow Canal was restored and landscaped as part of the re-development of the area for the University. When the Narrow Canal is re-opened to through navigation the Broad Canal is likely to become a busy and popular waterway once again.
For more photographs, see the Virtual Cruise along the Huddersfield Broad Canal.