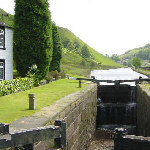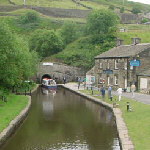 The South Pennine is a circular canal route in Northern England. The route is 70 miles long as has a total of 198 locks.
The South Pennine takes in the whole of the Huddersfield Broad Canal, Huddersfield Narrow Canal and Ashton Canal, most of the Rochdale Canal and part of the Calder and Hebble Navigation.
It provides a varied range of canal scenery, including probably the most dramatic upland scenery anywhere on the canal system as the route passes through the Pennines.
It has a variety of canal features including broad and narrow locks, aqueducts and sections of river navigation. The route includes the famous Standedge Tunnel - the longest canal tunnel in Britain.
The South Pennine is very lock-intensive but can be done within two weeks by a fit crew of at least two. Lock flights can be completed more quickly with a larger crew, where someone is able to walk ahead and prepare the next lock.
The ring usually takes around 60 to 70 hours of cruising time, not including the time taken to pass through Standedge Tunnel.
Approximate Distances:
Sowerby Bridge to Todmorden - 10 miles and 18 locks
Todmorden to Summit - 4 miles and 17 locks
Summit to Slattocks - 9 miles and 17 locks
Slattocks to Manchester (Ducie Street) - 9 miles and 30 locks
Manchester (Ducie Street) to Ashton (Portland Basin) - 6.5 miles and 18 locks
Ashton (Portland Basin) to Uppermill - 7.5 miles and 21 locks
Uppermill to Marsden - 5 miles, 11 locks including Standedge Tunnel
Marsden to Slaithwaite - 3 miles and 21 locks
Slaithwaite to Huddersfield - 5.5 miles and 21 locks
Huddersfield to Brighouse - 7 miles and 13 locks
Brighouse to Sowerby Bridge - 8 miles and 10 locks
(These figures are offered as a rough guide. They are not a suggested daily itinerary.)
These related books are available from amazon.co.uk - follow links for details:
by John Lower
by Steve Haywood
an account of a journey around the Huddersfield and Rochdale Canals when they had recently re-opened
For more books about these canals,
click here to visit the Pennine Waterways Book and Map Shop