This page shows where a new hydraulic lift bridge is being constructed at Grimshaw Lane, between Foxdenton Lane, Chadderton and Middleton Junction. There had been a lift bridge here originally when the canal was in operation.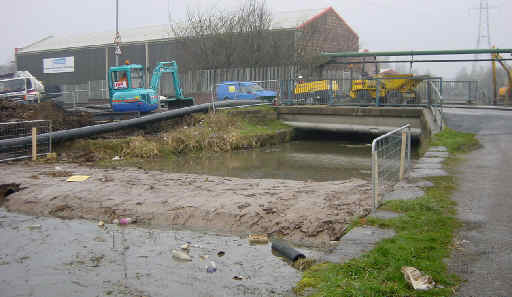 March 25th 2002: The former lift bridge at Grimshaw Lane, Chadderton, viewed from the south. The contractors have only recently moved onto the site. A stank (dam) has been put in place to hold water back from the bridge once excavations begin.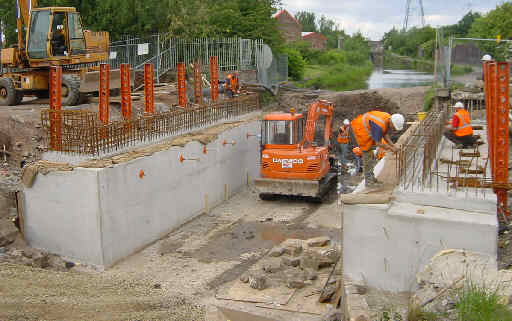 June 19th 2002: Looking north: the old fixed bridge has been demolished. The foundations for the bridge abutments have been constructed, with a concrete base between. The concrete was poured on June 14th and the shuttering has since been removed.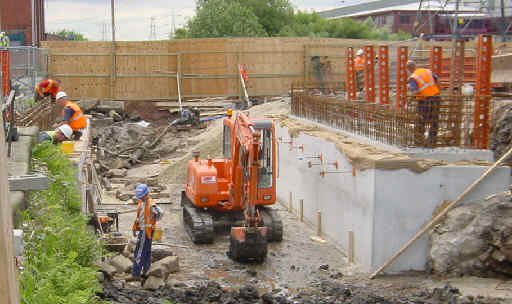 June 19th 2002: Looking south. Abutments for the new lift bridge are being constructed. The lifting deck of the bridge will be built on the site and moved into position on rollers. The canal channel will be open in time for the canal's opening in July but the bridge itself will not be ready until later.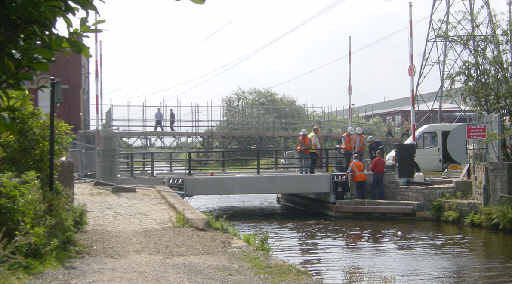 September 5th 2002: The deck of the bridge has been constructed alongside the bridge and is now in place.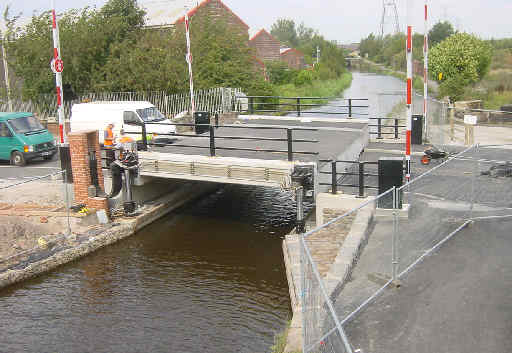 September 5th 2002: The hydraulic lifting rams of the bridge are tested ready for the bridge's opening on 9th September. The bridge will be operated by a waterways key. Red lights will flash and barriers will drop down across the road before the bridge lifts.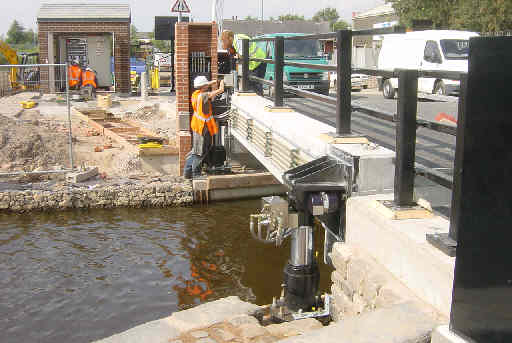 September 5th 2002: Hydraulic fluid is being carefully added to ensure that the rams operate correctly.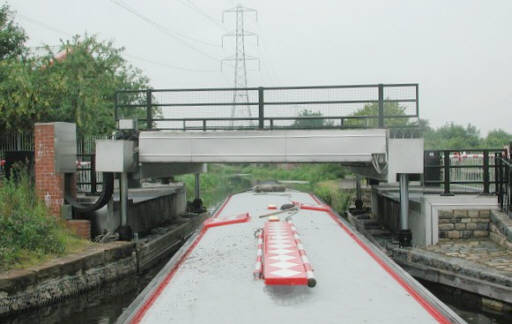 Photo: Neil Arlidge
The completed Grimshaw lane Lift Bridge in action.

Next page: M60 crossing, Broadway, Chadderton