The junction of Milnrow Road and Belfield Lane, Firgrove, looking towards Rochdale. The canal bridge was lowered here to make it easier for traffic to negotiate. The raised pavement in the distance gives a hint at the original road level.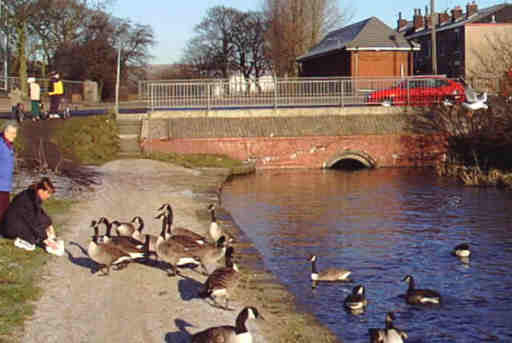 Looking north east at Firgrove before work started. The water of the canal passes through a small culvert beneath the road.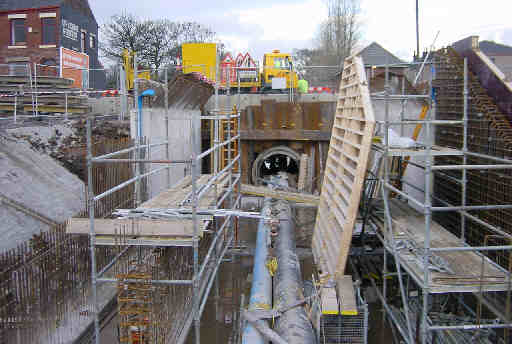 December 3rd 2001: Construction of the south west part of the new bridge is well under way.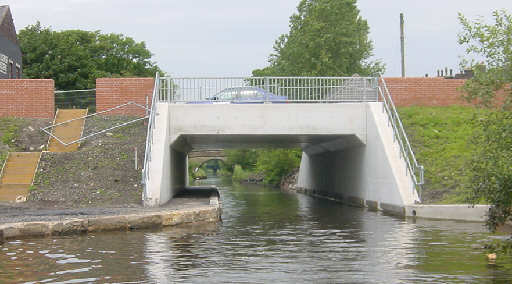 July 4th 2002: Looking north-east, with the canal in water, showing the completed concrete bridge structure. The wash walls have been linked into the new channel. The space on each side of the concrete structure has been filled with carefully compacted hard core. Railings and new walls border the new pavement across the bridge and steps have been constructed and the towpath has been surfaced.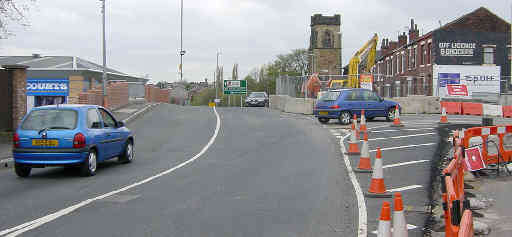 April 22nd 2002: Looking north-west. The completed first half of the concrete bridge has now been opened to two-way traffic on the left. To the right, construction of the second half has started.



June 19th 2002: The second phase of the bridge construction, looking north-west. The concrete roof of this section is now in place.
(picture distorted)


June 28th 2002: The second phase of the bridge construction, looking south-west. The concrete structure of the side walls, roof, parapet and towpath platform are now complete and railings have been added. The canal is now in water but work will continue for several weeks. The spaces alongside this phase of the bridge need to be filled and a new roadway constructed above.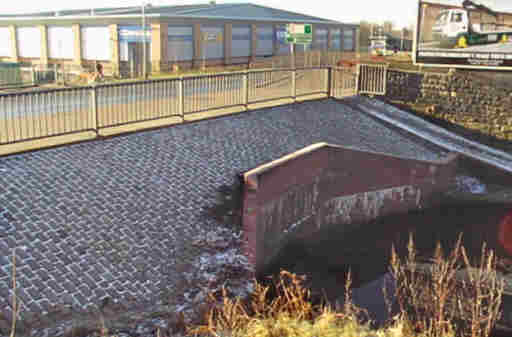 The culverted bridge at Firgrove looking south west before work started.

Next page: Deepdale and Kingsway Bridges