Just south of Castleton, Rochdale, the M62 motorway was constructed across the line of the canal only a little above towpath level.
The solution under construction is to divert the canal behind the nearby farm buildings and through an existing farm access tunnel. As the motorway is climbing steeply at this point, there will be sufficient height. Lock 53 will be replaced by a new lock south of the motorway. The canal will be at the same level from Lock 52, through the tunnel to the new lock. The road access to the farm will be diverted to Manchester Road over a bridge across the tail of the new lock.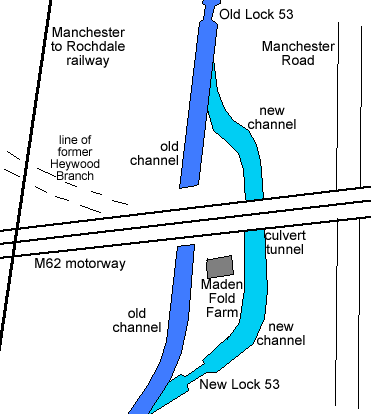 April 24th 2002: Looking south. The old course of the canal, to the right, is to become a nature reserve. The new line will cross this field to the culvert tunnel below the motorway, just discernible about a third of the way across the picture from the left.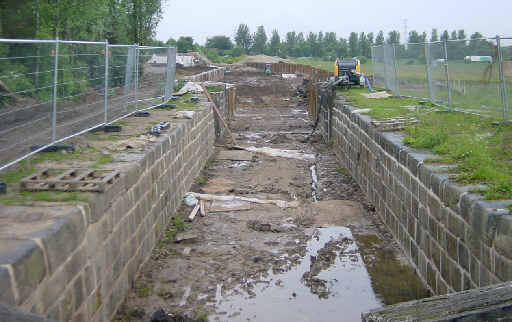 June 13th 2002: The chamber of the old Lock 53. This has been filled to the level of the canal bed of the pound above. The gates will be removed and the canal will run at this higher level from Lock 52 through the old lock chamber, the new channel and the motorway culvert to the new Lock 53, south of the motorway.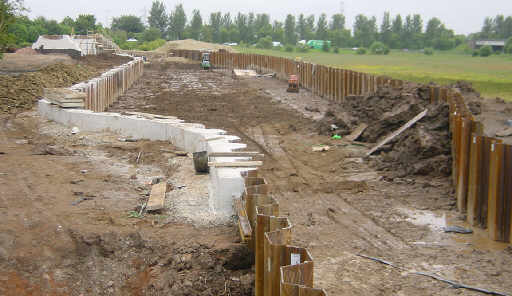 June 13th 2002: The channel being constructed south of the old lock. New wash walls have been constructed with sheet piles which will be topped with concrete coping. The channel curves to the left towards a new access bridge and the tunnel below the motorway.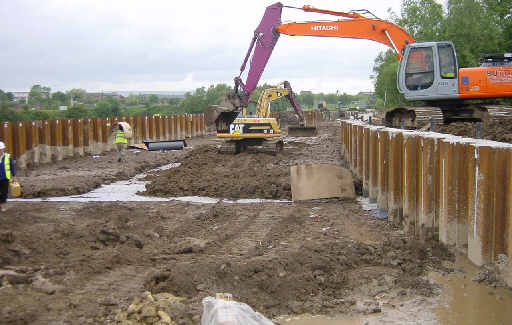 June 13th 2002: Looking north-east towards the old Lock 53. This section of canal has been filled and a new canal bed has been laid at the same level as the pound above the lock. Sheet piles have been used to form the wash walls of the new channel. A waterproof liner has been laid and is being covered with sand to protect it. The liner is made up of layers of material enclosing a layer of bentonite, a type of clay. The edges of the channel, where the liner meets the wash walls, is being puddled with clay to prevent leaks.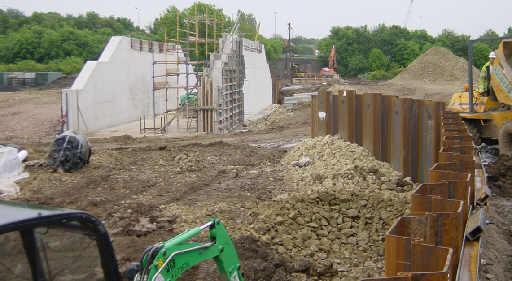 June 13th 2002: The new channel will be crossed by a bridge giving access to farmland west of the canal. The side walls of this bridge have been constructed.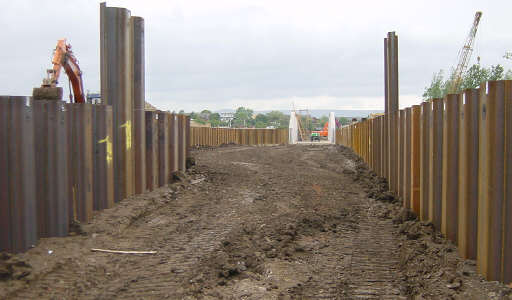 June 13th 2002: Looking north towards the access bridge. Most of the sheet piles are in place on this section of channel.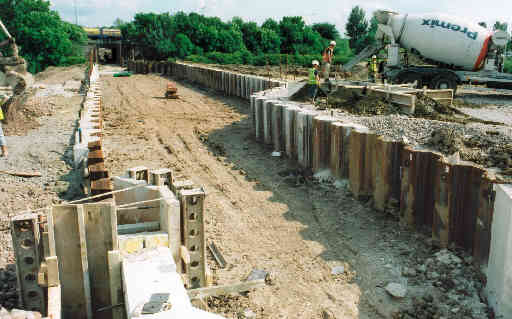 Photo: British Waterways
June 20th 2002: Looking south towards the motorway tunnel.

Next page: M62 crossing, Castleton, page 2

My thanks to Costain Ltd for providing access to the site to take photographs.