December 2006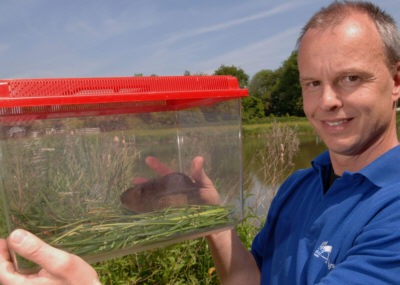 BW's ecology manager Mark Robinson with Vinnie the Vole - Picture: British Waterways
A recent survey conducted by British Waterways throughout the country has revealed that the water vole, Britain's most endangered mammal, is alive and well in many of the nation's canals and rivers.
But the survey also recorded alarming numbers of the non-native mink - the water vole's main predator - whose presence is thought to be one of the chief factors in the dramatic decline in vole numbers in recent years.
These results were shown by British Waterways' annual wildlife survey, which achieved a record number of sightings (over 6,000) from members of the public and school groups who visited local waterways during the summer and autumn months of 2006 and recorded their results online.
The most common sightings were of mallards, moorhens, swans, dragonflies and herons, but British Waterways ecologists were delighted by the sightings of the elusive water vole on the nation's waterways.
Dr Mark Robinson, national ecology manager for British Waterways, says: "The survey shows that wildlife is alive and well on our waterways. Apart from 212 sightings of water voles it is particularly encouraging to see so many other species flourishing that are associated with the waterways. Along with 500 herons there was an astonishing 300 kingfishers, 100 sightings of grass snakes and even 42 sightings of otters which are a key indicator of thriving waterways."
"I am very concerned by more than 100 sightings of mink on the waterways. In some places water voles and mink appear to be living side by side but we know that mink pose a real threat to the endangered water vole."
Many people mistake water voles for rats. Water voles, which make a distinctive 'plop' sound as they enter the water from the canal bank, have small hidden ears, silky mid-brown fur, a blunt nose and a short furry tail. They feed on vegetation and are quite different from rats which are opportunistic feeders and are visibly different. Most notably rats have pointed noses and a long, pink, hairless tail.
The water vole was immortalised as the character "Ratty" in the book "Wind in the Willows".
One thing that will surprise many who spend time near the canals of Northern England is that the seemingly ubiquitous Canada Goose does not appear in the "top 20" of animals spotted.
The table of results can be seen on the Waterscape website.
December 31st 2006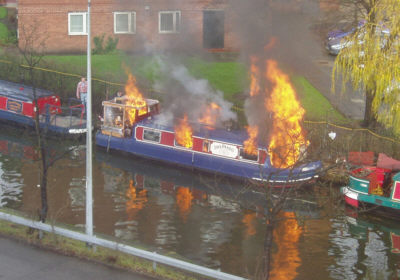 The Jack Daniels ablaze.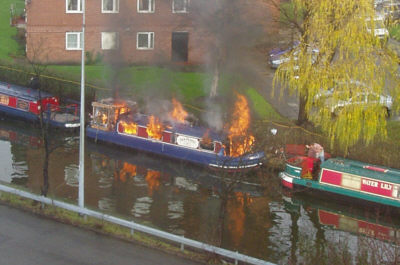 A boater moves Water Lily to safety.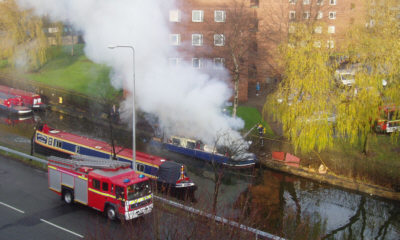 Firemen tackle the blaze. The neighbouring boats have been moved away.
A fierce fire has destroyed a narrowboat moored at Patricroft (Eccles) on the Bridgewater Canal.
The fire, aboard the "Jack Daniels", broke out on Thursday (28th December).
Morgan Jones was visiting his mother in Barton Road, opposite the boat, when the fire broke out around 12.30 pm.
Mr Jones, who took these dramatic photographs, told Pennine Waterways: "I noticed a few tiny flames inside the window of the 'Jack Daniels' and thought how odd, perhaps someone was burning something on the stove... until seconds later through the other window I saw even more flames. A few more seconds and the whole thing was alight. Within 5 minutes it was an inferno."
Two men from boats moored nearby arrived at the scene. Mr Jones describes how he saw one of the men jump on board the burning boat and disconnect the gas bottle. "He did the right thing and tossed it straight into the canal. I'm sure he just wanted to get out of the way as soon as possible!"
"Next I heard a few loud bangs which unnerved me a bit. I presume they were the windows smashing through".
The men then untied the two boats moored closely on each side and moved them to safety. They pulled them by hand and tied them up alongside the next boats.
Mr Jones had called the fire brigade when the fire was first spotted. "They raced past the flat and headed up toward the bridge on Liverpool Road so they could come back down the other side. It seemed like a while before they reached the spot. By the time they got to the boat there wasn't much left, certainly none of the interior. They stayed about an hour, pumping water.
Nobody was thought to have been on board the boat at the time. It is reported than one person suffered slightly from smoke inhalation.
All photos: Morgan Jones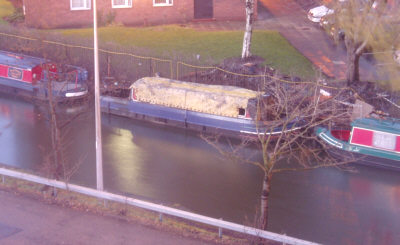 The burnt-out boat on 31st December.
30th December 2006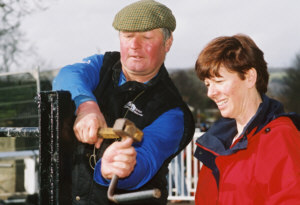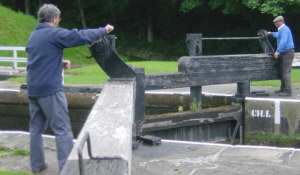 One of Britain's best-known lock-keepers has been acknowledged in the New Year's Honours List for 2007.
Barry Whitelock, keeper for more than 20 years of the famous Bingley 5-Rise Locks, on the Leeds and Liverpool Canal, is to receive an M.B.E.
Barry grew up nearby and, although he started work on a farm, he had always wanted to be the lock keeper of the 5-rise lock staircase. In March 1978, he started working for British Waterways as a lock keeper at various locations until his dream job at Bingley became available. He applied for the job successfully and has been there ever since, with responsibility for the 5-rise locks and the nearby 3-rise flight.
The staircase locks can be a daunting experience for boaters, with potential hazards such as gate paddles that release water in a way that could swamp boats. Barry is renowned for his constant alertness and for the friendly manner in which he directs boaters to operate the paddle gear and gates safely.
Laurence Morgan, general manager for British Waterways Yorkshire, said: "I am very proud to count Barry as a loyal employee who is a credit to the organisation. He is a very valuable member of the team and his safe but direct style of operating his flight has become well known by staff and customers alike over the years. Customers appreciate the way they are treated by Barry as the many letters to this effect on his personnel file bear out, and he deserves to be recognised by this prestigious honour."
Barry, who owned his own narrowboat for a number of years, has been nominated as Lock-keeper of the Year many times and received the Douglas Wooler Golden Windlass Award for service and friendship to boaters.
December 20th 2006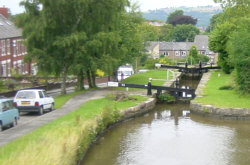 The temporary stoppage on the Marple lock flight has now been extended. The planned openings between 22nd Dec and 7th Jan have now been cancelled. The locks will not now be open until March 18th, when planned work on the lock flight is complete.
Following the emergency stoppage notice issued on the 8th December, investigations to the lock wall have found subsidence and extensive voids in the ground adjacent to the lock wall of lock 15 (photo, right). This area has now been fenced off as a safety precaution.
Due to the instability of the lock chamber, the flight will remain closed until the repairs have been completed.
Designs and safety plans are currently being completed, due the scope of the works listed building consent will be also required. Due to the 8 week time constraint on obtaining the listed consent, the on-site works will commence during the planned winter stoppage on the Marple Flight during February 2007.
These works are due to be completed by 18th March 2007.
Winding can be found below Lock 1 and above Lock 16. This affects boaters on the Cheshire Ring.
December 13th 2006
In answer to a question at Prime Minister's Questions in the House of Commons today, the PM apparently claimed not to be aware of the problems caused by the Defra cuts.
Sir Peter Soulsby asked him:
"Mr Speaker, I know the Prime Minister is well aware of the immense benefits of regeneration that have resulted from the Government's support for British Waterways since 1997 and the contribution that waterways now make to leisure, tourism, education, heritage and transport. Is he aware of the very serious problems and the fear being caused by the sudden cuts in Defra grant and will he discuss with ministerial colleagues a sustainable funding model and status for British Waterways that secures the future of this unique national asset?"
The Prime Minister replied:
"Well, er... I have to confess to my honourable friend I wasn't fully aware of all the changes in British Waterways and canals - but I am now! And it is correct that, actually, over the past few years there has been a very significant rise in the way people use our canals and waterways and the British Waterways Board has done a superb job as well, and actually, as a result of this it has been turned around from where it was a decade ago. However, they like everyone else, have to live within the means that we set ourselves and it is important that we make sure that in addition... we are actually giving additional money since those that were available in 1997, but the Department of the Environment and Rural Affairs, like everyone else, must live within their means."
So, although the Prime Minister says that he is aware of the issue now, he still talks of the additional funding since 1997, much of which has been used to reduce the huge backlog of safety and maintenance problems, and does not address the current funding problems.
It would also appear that the PM was not aware that one of the e-petitions on his Number Ten website is about that very topic. (Please add your name if you have not already done so!) Perhaps readers should write the their MPs asking them to find out why the Prime Minister was not previously aware of the matter and encouraging him to take more interest?
The question and reply can be viewed on this website, by clicking on "Prime Minister's Questions". You can fast-forward to 21 minutes into the video.
Wakefield Waterfront and Hepworth Gallery
12th December 2006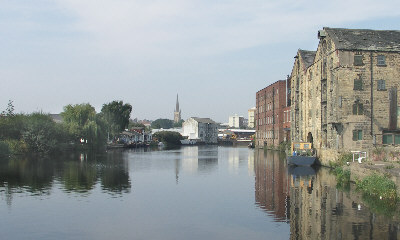 Wakefield Waterfront
British Waterways has agreed to lease a 1.7 acre site to Wakefield Council on which the new Hepworth Gallery is to be built.
The £20 million Hepworth Gallery will take its name from Wakefield-born sculptor Dame Barbara Hepworth and will include 30 of her original plaster sculptures, as well as the city's historic and contemporary art collections.
The site is in a prominent position beside the River Calder in the Waterfront regeneration area, which is now rapidly taking shape. British Waterways is a major landowner of the waterfront area being redeveloped by CTP St. James and Wakefield Council.
Work on the Gallery and the first four office and residential buildings will begin early in 2007 with an anticipated completion date of March 2009. Development will include construction of a new footbridge upstream of the weir to link the Gallery site with a new car park on Thornes Lane.
Laurence Morgan, General Manager of British Waterways Yorkshire, said: "We are delighted to have reached this agreement with Wakefield Council, as we very much want to be an active partner in the development of this important site."
"This fantastic Gallery is expected to draw international and national visitors to the City, and will be an important part of our vision to double customer numbers to the waterways by 2012. We have already identified Wakefield to be one of our priority destinations in the next few years and we are delighted to be working with Wakefield Council on this project."
Councillor Phil Dobson, in charge of Regeneration for Wakefield Council, said: "The Hepworth Wakefield will be a world class facility and will put this development and Wakefield on the national and international stage. As with all the developments planned for the city, the emphasis is on quality and I am certain that the people of the district will have real pride in what is about to be delivered."
Oliver Quarmby of CTP St James said: "The signing of this agreement is key to securing the regeneration of the Waterfront. It is possible to see now how the Waterfront Community as a whole will develop with significant residential, commercial and cultural elements."
The site for the Hepworth Gallery is part of a major 10 acre development which will transform the area of Wakefield's waterfront into a mix of office, residential and leisure buildings as well as the Gallery.
The proposals include restoration and conservation work on the Grade II Listed Calder and Hebble Navigation Warehouse, which will include an interpretation centre on the ground floor.
The whole scheme will cost around £100 million and will include open spaces and a new "southern gateway" into the city. The land to be developed adjoins the Calder and Hebble Navigation to the north of Wakefield Flood Lock.
Rochdale Canal closed near Summit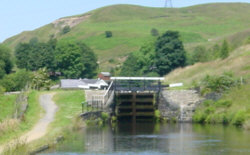 December 11th 2006
The Rochdale Canal has been closed to through navigation at Lock 38, the first lock below the Summit pound on the west side, until 22nd December.
The closure follows damage to the tailgate, cill and lock base. Work to repair the tailgate and cill will begin straight away and a concrete base will be installed to the lock.
The work will be completed by 22nd December. Winding holes are available below Lock 30 at Walsden and below Lock 48 at Littleborough.
Update: December 22nd 2006
The repair work has been completed and the lock has now re-opened.
December 8th 2006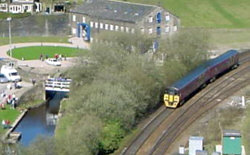 Good news for anyone who might be planning to walk the towpath of the Huddersfield Narrow: starting 10th December, a new two-hourly Sunday train service is to be introduced, stopping at all stations along the canal route.
The trains will stop at Huddersfield, Slaithwaite, Marsden, Greenfield, Mossley, Stalybridge and Ashton (then on to Manchester Victoria), which will make it easier to walk from point to point along the canal. Weekday trains stopping at all these stations will continue to be hourly.
You can view or download the new timetable here (.pdf file).
December 8th 2006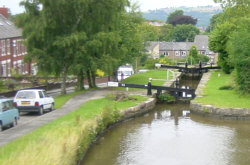 A stoppage has been announced on the Marple lock flight of the Peak Forest Canal. A significant void has been found behind the walls of lock 15 (photo, right).
Engineers are currently on site conducting investigation works. A further update notice will be issued within the next 7 days.
Winding can be found below Lock 1 and above Lock 16. This affects boaters on the Cheshire Ring.
Restricted opening times for Marple locks over the Christmas and New Year period have been announced (assuming the above stoppage has been lifted by that time). The top and bottom locks will be locked at 1.00 pm on each opening day.
Christmas and New Year opening times:
- Fri 22nd Dec, open 8.30 am - 1.00 pm
- Sat 23rd Dec, closed
- Sun 24th Dec, open 8.30 am - 1.00 pm
- Mon 25th Dec, closed
- Tue 26th Dec, open 8.30 am - 1.00 pm
- Wed 27th Dec, closed
- Thur 28th Dec, open 8.30 am - 1.00 pm
- Fri 29th Dec, open 8.30 am - 1.00 pm
- Sat 30th Dec, closed
- Sun 31st Dec, open 8.30 am - 1.00 pm
- Mon 1st Jan, closed
- Tue 2nd to Sun 7th Jan, open 8.30 am - 1.00 pm
- Mon 8th Jan to 18th March, closed for planned stoppage
The above information supplied by BW. If you intend travelling on these days it would be worth checking that the times and dates are still correct. The above times assume that the stoppage at Lock 15 has been lifted by that time.
Important update - these openings have now been cancelled. More information...
December 7th 2006
Om 6th December a Parliamentary "Adjournment Debate" about funding for waterways took place in Westminster. The debate took place in the committee room in Westminster Hall and lasted 90 minutes. 16 MPs spoke of their concern at the effects that the cutbacks in funding to British Waterways may have in their constituencies and Ben Bradshaw responded for the government.
You can (for the next few days, at least) watch the debate.
You can also read the text of the debate.
November 26th 2006
Demonstrations against the waterways funding cuts took place all over the country this weekend (25th/26th November).
Follow this link for reports and photos of events in Castlefield and Bugsworth.
Castlefield, Manchester
25th November 2006
Twenty five boats and their crews attended the protest event held at Castlefield in Manchester on Saturday 25th November. They were supported during the day by a large number of other waterways users.
There was a "blockade" of the junction of the Bridgewater and Rochdale Canals at Castlefield.
Eccles MP Ian Stewart was at the event for much of the day and made a supportive speech to the gathering.
A camera crew from BBC News 24 was there throughout the day. Interviews and pictures of the event were broadcast on the channel every hour and some of the footage featured in the BBC1 national news in the evening.
A crew from Granada Television were there for a time during the afternoon and an item on the event was broadcast on the local ITV news.
Photo top - Some of the protesters at Castlefield, Manchester, earlier in the day, when it was still raining. Centre is Ian Stewart MP. Right is Graeme Bridge, local organiser.
Photo middle - Some of the 25 boats blockading the junction of the Bridgewater and Rochdale Canals at Castlefield, Manchester. An outside broadcast for BBC News 24 is taking place on the left. The satellite transmitter van can be seen in the background.
Photo below - Ian Stewart MP addresses the gathering and the camera of BBC News 24 at the protest at the junction of the Bridgewater and Rochdale Canals, Castlefield, Manchester.
Bugsworth Basin
25th November 2006
Forty six boats assembled at Bugsworth Basin at the head of the Peak Forest Canal in Derbyshire.
Their crews were joined by supporters who arrived on foot and by car.
High Peak MP Tom Levitt and Whaley Bridge Council's David Lomax attended to show their support and addressed the crowd during the afternoon.
Photo right - High Peak MP Tom Levitt addresses the gathering.
Photo below - Left to right: David Lomax, Leader, Whaley Bridge Council; Roger Olver, local event organiser; Tom Levitt, MP for High Peak.
Photo below - protesters gathered at Bugsworth Basin. In the background: Sue Day, who brought two boathorses, Queenie and Bonny, who both said "Neigh" to Defra cuts!
Skipton
25th November 2006
A rally in support of the Save Our Waterways campaign was held in Skipton.
Twelve boats assembled at the junction of the Springs Branch.
Supporters talked to people walking along the towpath and got many to sign the petition.
Please take some time to visit www.saveourwaterways.org to find out more about the situation and how you can help.
(External link opens in new window)
Defra Cuts Protests This Weekend
November 22nd 2006

A number of water-borne demonstrations will take place this weekend (25th/26th November).
The demonstrations will be protesting at the cuts in funding by Defra to British Waterways and the Environment Agency.
There are events in various parts of the country, including these in the North of England:
Castlefield, Manchester, junction of Bridgewater and Rochdale Canal.
12.00 noon, Saturday 25th November.

Skipton, North Yorkshire, Leeds and Liverpool Canal.
between 10.00 am and 4.00 pm, Saturday 25th November.

Bugsworth, Derbyshire, terminus of Peak Forest Canal.
Flotilla starts from NCCC at High Lane 10.00 am, via Marple, collecting boats on the way and arriving Bugsworth approx 2.00 pm, Saturday 25th November.

Chester, Cow Lane Bridge, Shropshire Union Canal.
between 10.00 am and 5.00 pm, Saturday 25th November.
Anderton, outside Visitor Centre, Trent and Mersey Canal.
10.00 am Saturday 25th until 3.00 pm Sunday 25th November.

Waterways Electronic Petition to Number Ten
November 22nd 2006

All those who are keen to see the survival of our waterway system are encouraged to add their names to the new on-line E-Petition to Number 10 Downing Street.
Follow this link to add your name: http://petitions.pm.gov.uk/SaveOurWaterways (opens in new window)
The petition has been created by Will Chapman as part of the Save Our Waterways campaign.
Its wording is:
"We the undersigned petition the Prime Minister to introduce legislation to solve the short term funding problems that have been caused by the cuts that Defra has made, and threatens to continue, to the budgets of British Waterways and the navigations the Environment Agency, and to ensure that long-term funding is made available to enable the inland navigation authorities to maintain, improve and restore these important parts of our national heritage."
This is in addition to the paper petition to Parliament that is currently being circulated (can be downloaded from Save Our Waterways website).
However, as soon as the new session of Parliament started, two new Early Day Motions on the subject have been tabled, with better wording than the previous motions.
Rochdale Stoppage at Gauxholme extended
November 22nd 2006 - updated 27th November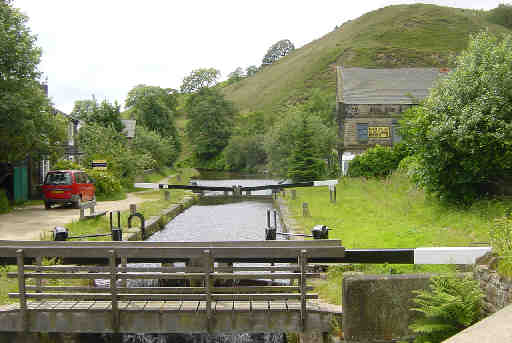 A stoppage has been announced at Lock 24, Gauxholme Highest Lock, on the Rochdale Canal near Todmorden. This stoppage has now been extended until the evening of Wednesday 29th November.
This is an emergency stoppage following damage to a heel post on the lock's tailgate.
British Waterways staff have been assessing the scale of the damage and have found an 8 foot split down the breast beam on the tailgate. While this work is being carried out, British Waterways has also included repairs to both tail gate paddles and stainless steel bolts.
Winding holes are available at Lock 30 and Lock 18.
Lock 24 is between Todmorden and Walsden and is the lock adjacent to the A681 Bacup Road bridge.
Save Your Waterways - New early Day Motions in Parliament
November 16th 2006

Pennine Waterways reported earlier on an Early Day Motion tabled in Parliament concerning the severe cutbacks in funding to British Waterways. This gained much cross-party support, with 163 back benchers signing. Two other EDMs followed, one of which concerned the funding to the Environment Agency, which operates some navigable rivers.
You may be aware that these three Early Day Motions ceased to exist when the last Parliamentary term ended at the start of November. This is normal. Anything that is still on the table at the end of the Parliamentary session automatically vanishes and has to be started again.
However, as soon as the new session of Parliament started, two brand new Early Day Motions on the subject have been tabled, with better wording than the previous motions.
How can you help?
Write to your MPs and ask them to sign these new EDMs. (They are EDMs 90 and 50).
Even if you wrote to them to ask them to sign the previous EDMs, write to them again, as these are new motions, starting again from scratch, and need their support.
EDM53 and EDM90 are the more important ones for them to sign, as they refer specifically to the funding cutbacks. They have also been put down jointly by both Labour and Conservative MPs which makes them more likely to gain all-party support.
If your MP is a front bench spokesman (either for Government or Opposition) then convention may prevent them from signing EDMs, but if this is the case, you can ask them to show their support in other ways, such as by asking questions of the Minister (David Milliband).
Please write to your MP, even if they can't sign the EDMs and even if you wrote to them a few weeks ago, as they have to reply to you and the more people write about the funding cuts the more seriously they will take it as an issue. Do not worry about bothering your MP - it is his or her job to hear your concerns!
If you have not written to your MP before, you can email them through this website: www.writetothem.com or you can usually contact them through their own websites.
Follow the progress of these EDMs and see which MPs have signed them here:
DDM90 "Inland Waterways (No 2)", EDM50 "Inland Waterways".
You can find out more about the campaign on the "Save Our Waterways" website here.
(External links open in new windows)
Rochdale Canal - Tuel Lane Lock Winter Opening Times
November 16th 2006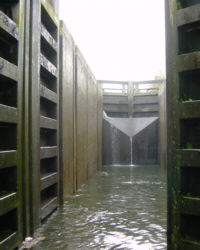 Tuel Lane Deep Lock
British Waterways has announced restricted Winter opening hours for Tuel Lane deep lock on the Rochdale Canal at Sowerby Bridge.
The lock will not be manned continuously. It is necessary to book passage at least 48 hours in advance for weekday passages. 72 hours notice is required for weekend passages.
Contact British Waterways in Wigan on 01942 405700 for bookings.
Winter opening times are:
- Monday to Friday 9.00 am - 3.30 pm
- Saturday and Sunday 8.00 am - 12.00 pm.
Last entry 30 minutes before closing time.
The restricted hours of opening will apply until 31st March 2007.
Peak Forest Canal - Marple Locks
November 8th 2006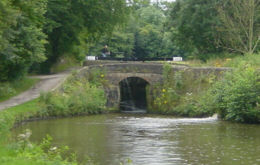 In August 2006, damage was caused to the tailgate cill at Lock 5, Marple, on the Peak Forest Canal. Emergency repairs were carried out but Lock 5 still needs to be managed by BW staff until further notice.
Since August, passage has been restricted to daytime hours, with Marple Lock flight being closed overnight. During the Winter period, the lock flight will be locked at 1.00 pm each afternoon and re-opened at 8.30 am until further notice.
This will affect boaters on the Cheshire Ring.
Due to damage on the tail gate cills both ground and gate paddles need to be operated to fill the lock.
British Waterways has issued the following guidance to boaters intending to use Lock 5:
Travelling Up the Lock:
Boats less than 60ft in length should remain behind the red line marked on the copers at all times. CAUTION - Discharging water from the head gate paddle may enter your boat if you do not stay behind the red line.
Travelling Down the Lock:
After the boat has entered the lock close the head gate before ensuring BOTH ground and gate paddle have been closed. Tail gate paddles may then be used as per normal operation.
Boats over 60ft long should ring the Customer Services Department on 01942 405 700 for assistance to navigate Lock 5.
Rochdale Canal closed at Lock 12 for 4 days
November 3rd 2006
The Rochdale Canal has been closed at Lock 12, west of Hebden Bridge, for 4 days.
The stoppage is to enable an emergency repair to replace an offside damaged tailgate paddle.
The lock should be re-opened to navigation on Tuesday 7th November.
Winding holes can be found below Lock 12 and above Lock 14.
Fallen tree shuts Rochdale Canal - now re-opened
October 31st 2006 - updated November 1st 2006
The Rochdale Canal was closed between Sowerby Bridge and Mytholmroyd by a fallen tree.
During high winds on October 30th, the tree fell across the canal, blocking the navigation and towpath.
British Waterways' staff have now removed the obstruction and the navigation and towpath have now re-opened.
An earlier estimate that the removal could take a week has proved incorrect, luckily.
Plank Lane Bridge re-opens again
October 23rd 2006, Updated October 24th 2006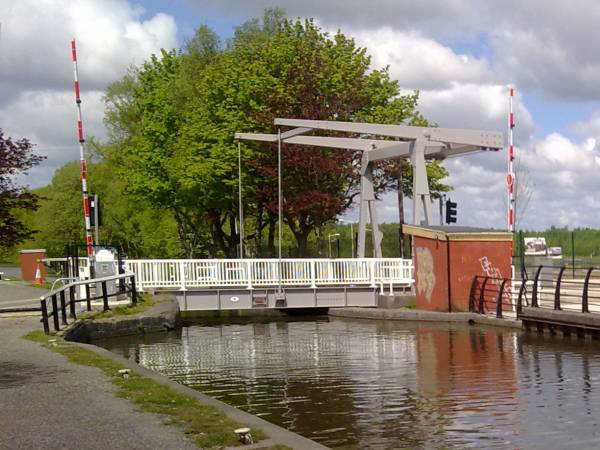 Plank Lane Bridge, on the Leigh Branch of the Leeds and Liverpool Canal, which had been closed to navigation yesterday, has now been re-opened.
A vehicle had struck the bridge and for health and safety reasons the bridge was closed to navigation until engineers were able to inspect the bridge on Tuesday 24th October.
British Waterways are carrying out repairs as a result of the vehicle colliding into the bridge. Operation of the bridge may be restricted during periods of high winds.
The bridge was closed for several months earlier in the year after the counterweight became detached. Read more about that here.
The Leigh Branch is a key route linking the Leeds and Liverpool Canal at Wigan with the Bridgewater Canal.
United front to fight waterways funding cuts
October 22nd 2006

Ten national groups, representing tens of thousands of waterway visitors and users, are gearing up to campaign against the massive reduction in funding from the Department for Environment Food and Rural Affairs.
A wide range of waterways interest groups have come together to plan activities and events that are intended to make Defra realise the benefits of a vibrant, active and attractive waterways network, and they are confident other organisations will support them. Representing boaters, anglers, cyclists, canoeists, rowers, horse riders, runners, walkers, environmentalists and local communities across the country, the newly formed alliance is aiming to bring the serious threat to the future of the waterways network to the widest possible audience across the UK.
Along with lobbying the hundreds of MPs who have a waterway within their constituency, the groups plan to arrange a number of public events that will encourage all fans of the waterways to join in the campaign for adequate public funding of the UK's historic network of canals and rivers.
A campaign spokesman said: "Authorities such as British Waterways and the Environment Agency should not be punished because of mismanagement by Defra, nor should the millions of people who love Britain's waterways. The Government will realise very soon that there are millions of votes attached to those who care about and make use of waterways, and they will lose these if common sense does not return to Government thinking".

IWA Chairman John Fletcher
IWA Chairman John Fletcher said: "IWA is the major national voluntary organisation representing inland waterway users and is currently celebrating its Diamond Jubilee: 60 years of successful campaigning in which we have fought to ensure that our once near-derelict navigable waterway system has been rescued, restored and regenerated as a major public asset and amenity. Little did we expect when we planned our Diamond Jubilee celebrations, that we would have to mount a campaign of this magnitude to fight for the very waterways saved by members over the Association's life. We did not expect such cuts from a Government department that has previously recognised the value of our waterways."
IWA has appointed consultants Waterway Images Ltd to assist with the organisation of its campaign and co-ordinate the campaign that IWA is conducting through its nationwide branch network and work with other organisations. IWA and British Marine Federation have also funded consultancy work by former MP Candy Atherton, a boat owner, who is assisting with parliamentary lobbying.
The groups that are working together are (in alphabetical order):
- The Association of Waterways Cruising Clubs (AWCC)
- The British Canoe Union (BCU)
- The British Marine Federation (BMF)
- DBA The Barge Association
- The Historic Narrow Boat Owners Club (HNBOC)
- The Horseboating Society (HBS)
- The Inland Waterways Association (IWA)
- The National Association of Boat Owners (NABO)
- The Residential Boat Owners' Association (RBOA)
- The Royal Yachting Association (RYA)
- Save our Waterways action group

Please take some time to visit www.saveourwaterways.org to find out more about the situation and how you can help.
(External links open in new window)
Read earlier article on BW's response to a newspaper article naming 3 canals for closure.
MP takes to the water to pledge support for waterways!
October 22nd 2006
David Heyes, MP for Ashton under Lyne and Failsworth, last week took to the water to find out more about the problems facing the area's canals. David's constituency includes parts of the Ashton and Rochdale Canals, which were named in a recent newspaper article as potential candidates for closure, although BW has denied that this is so.
David has a keen interest in canals and earlier this year introduced The Abandoned Waterways Bill. He was one of the first MPs to sign the Early Day Motion (EDM 2757) calling for the funding cuts to BW to be reversed.
David met the crew of the horseboat Maria on its return journey from the Bridgewater Hall in Manchester. He sat and talked to the crew members about their concerns and asked many questions. He said that he would do what he was able to work for a re-think in Defra and the Treasury regarding the funding for waterways.
He then took to the tiller and steered the horsedrawn boat along the Ashton Canal from Ancoats to the former Commonwealth Games stadium.
Photo right: David talks with members of the crew of Maria.
Photos below: David steers Maria on the Ashton Canal.
Photos: Heather and David Howarth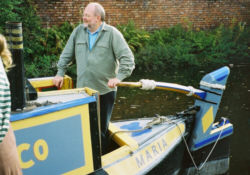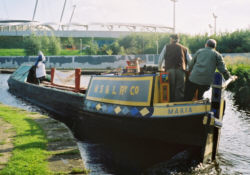 Spooky Goings-On At Standedge
October 17th 2006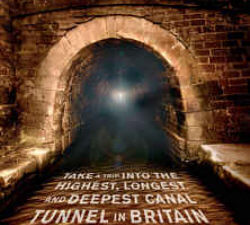 Visitors to Standedge Visitor Centre are in for a fun-filled, spooky week of half-term activities during the run-up to Halloween at the end of October.
Tuesday 24th, Wednesday 25th and Friday 26th October:
Standedge Visitor Centre will be holding three Wild Over Waterways (WOW) days from 12.00 noon - 4.00 pm on Tuesday, Wednesday and Thursday of half term week when children (accompanied by an adult) can take part in a number of activities including trick or treat bag making and create their own face masks for Hallowe'en, brass rubbing and numerous other craft exercises, all for £1. Children can also have their face painted for an extra 50p.
As an added treat on Thursday, blacksmith David Crane will be doing some demonstrations which children can take part in, if appropriately dressed, and learn all there is to know about the ingenious and skilful art of 'blacksmithing'.
Saturday 28th October:
For those who have a fascination in the paranormal, there will be the special afternoon trips at 1.00 pm, 2.30 pm and 4.00 pm, when White Rose Paranormal, who have recently been featured in the top selling, Paranormal magazine, will be investigating if there really is a 'dark side' to the highest, longest and deepest canal tunnel in Britain. White Rose Paranormal have discovered ghostly happenings at various attractions in Yorkshire and will delve deeper into the unsolved mystery of the tunnel's murdered woman... not one for the fainthearted! Trips will cost £6.50 per person and include a free cuppa! Parental guidance is recommended for under 12s.
Founder of White Rose Paranormal, Sara Woodward, said: "Standedge Tunnel is such a historical place with lots of mystery and intrigue surrounding it this should be a really interesting investigation. If anyone has an interest in the paranormal world then they should come take a trip with us and see what we can discover."
Sunday 29th October:
There will be the chance to hop on board one of Standedge Tunnel's spooky cruises with the 'gruesome guide' as visitors get the chance to explore the dark depths of this atmospheric and mysterious canal tunnel.... if they dare!
More information about events at Standedge Visitor Centre can be found on their website www.standedge.co.uk.
Rochdale Canal lock re-opens 21st October
October 13th 2006, updated 20th October 2006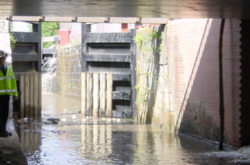 Another stoppage was announced at Lock 51 (Blue Pits Lock) on the Rochdale Canal at Castleton, between Rochdale and Slattocks.
Following investigations to damage to the offside tailgate cill of Lock 51, work has begun to repair the cill, including the replacement of the existing lock floor.
British Waterways estimate that these works may take approximately one week to complete.
The lock was closed for 3 days while emergency repairs were carried out four weeks ago when the damage first came to light.
This means that the Rochdale Canal will be closed between Lock 53 near the M62 and the junction with Rochdale Town Arm. Visitor moorings are available at Littleborough and Slattocks.
Update 20th October: The repair works have now been completed. The lock will re-open to navigation on Saturday 21st October.
Right: Blue Pit Lock on the Rochdale Canal at Castleton.
Save our Waterways - MP tables motion - you can help!
October 18th 2006

Charlotte Atkins MP has tabled an Early Day Motion urging the Government to reinstate the cuts in BW's funding.
You can help this motion to be effective by asking your MP to sign EDM 2757. Follow the link below for more information about the motion and background to the campaign.
Following problems with Defra's payments to farmers, funding to all of Defra's dependent bodies, including British Waterways, has been severely slashed.
British Waterways has already had to make some staff redundant and abandon some planned maintenance.
Any serious canal failure may have to be left unrepaired, so some canals are at risk of closure.
Please take some time to visit www.saveourwaterways.org to find out more about the situation and how you can help. The website is new and changing daily so please check it from time to time.
(External link opens in new window)
Read earlier article on BW's response to a newspaper article naming 3 canals for closure.
BW and Police start "Barge Patrols" on the Rochdale Canal
October 16th 2006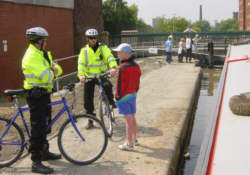 Police keeping an eye on youngsters on the Rochdale Canal.
Passing through the inner-city suburbs of any conurbation can provide boaters with additional "excitement" at times, and the Rochdale Canal into Manchester is no exception.
While most boaters pass through the areas between Failsworth and Machester without incident, the occasional isolated incident can still end up being reported in the press, helping to give the canal a negative reputation. In fact, most of the problems that occur along this stretch of canal do not involve boaters at all, but involve youngsters damaging the canal infrastructure, which can lead to problems for boaters, such as empty pounds.
Now police officers in North Manchester are joining forces with staff from British Waterways to carry out "barge patrols" along the Rochdale Canal, in order to help reduce crime and anti-social behaviour.
The patrols will operate in Ancoats, Clayton, Miles Platting and Newton Heath in response to growing concerns about robberies, vandalism and nuisance behaviour being committed along the towpath.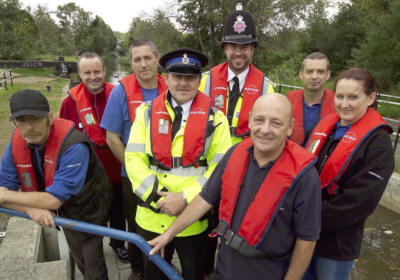 Members of the "Barge Patrol" stand by for action.
Picture: BW
Over the past six months, British Waterways has recorded 11 incidents of criminal damage, including damage to lock gearing and gates. Balance beams have also been vandalised with a machete and nearby properties have been flooded when vandals let water down through locks and caused pounds to overflow.
The regular patrols in the area, both by boat and on foot, will help to reassure local people that action is being taken and will help to reduce the number of incidents taking place.
Staff from Northwards Housing are already working with police to try and identify offenders responsible for committing criminal damage and work is due to start in October to fit six barriers along the towpath to prevent members of the public from riding off-road bikes near to the water.
Ian Chadwick from the Newton Heath Area Policing Team said: "By working with British Waterways we can help to ensure that this stretch of the Rochdale Canal is a safe place for members of the public. Throughout the year we have received numerous calls from residents about wheelie bins being set on fire, nuisance behaviour, vandalism and more serious crimes, such as robberies taking place. Such incidents are not tolerated by the police and we hope that these barge patrols will help prevent such behaviour before it occurs".
Jimmy Swindells, BW's Supervisor for the Rochdale Canal added: "Over the past six months, the number of anti-social behaviour incidents has risen. This has led to major water level restrictions on passages for boaters due to vandalism around lock 74. Other incidents include damage to lock gates, verbal abuse and motorcycle incidents. By working in partnership with Greater Manchester Police and other key agencies, with the new patrols now being imposed, the canal will become a safer and nicer place for people to visit."
Liverpool Link - proposed change turned down
October 11th 2006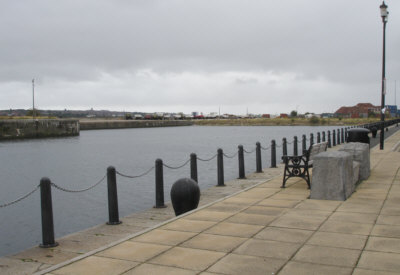 This week, Liverpool's city planners have turned down a bid by BW to change its plans for the Liverpool Canal Link, which will connect the Leeds and Liverpool Canal via the Pier Head to Albert Dock.
The canal link itself has already been approved, and work should have already started, but BW had applied to alter the scheme by filling in West Waterloo Dock apart from a navigable channel, using spoil from excavating the channel across the Pier Head.
Local residents fear that housing could eventually be built on the infilled dock. The proposal was turned down because of the historical significance of the area. It would mean a loss of more of the city's dock heritage.
BW will have to review the situation along with owners of the dock Peel Holdings. If an appeal against the decision is made, the scheme seems unlikely to be completed by 2008 as planned, in time for the city's year as European Capital of Culture
A photo tour of the route of the link can be seen here.
Right: West Waterloo Dock, Liverpool.
Bridge repair on the Rochdale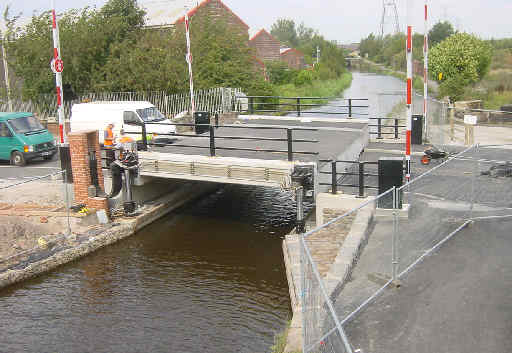 October 11th 2006, updated October 13th 2006
Grimshaw Lane Lift Bridge on the Rochdale Canal at Chadderton has suffered a mechanical failure and is currently closed to navigation.
Contractors have examined the bridge and are in the process of carrying out repairs.
British Waterways is hopeful that the bridge will be re-opened to navigation by 5.00 pm on Thursday 12th October 2006 but this is still to be confirmed.
Update: The bridge has now been re-opened.
Right: Grimshaw Lane Lift Bridge
Northern canals under threat - could some close? BW responds
October 7th 2006 - updated October 10th 2006

Pennine Waterways reported in August [here] that British Waterways faced a crippling cut in its funding as a result of DEFRA's incompetence with its farm subsidies.
The full implications of this serious funding shortfall are now becoming clear.
It is reported that BW is considering pulling the plug on canal restoration schemes such as the Lancaster Canal Northern Reaches and the Manchester Bolton and Bury Canal.
It is further reported that BW may have to close some canals.
In an article in The Telegraph newspaper, BW's Eugene Baston is quoted as saying "We are being penalised for Defra's incompetence. If we can't maintain the waterways, we can't keep them open."
The Telegraph article states that BW "is now preparing to shelve plans to re-open 60 miles of previously closed waterways in the North-West of England", then claimed that "three of the first canals expected to close" were the Rochdale, Ashton and Peak Forest Canals [read article here].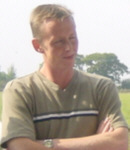 BW's Eugene Baston
However, BW's Eugene Baston told Pennine Waterways "BW doesn't have a list of waterways it intends to close down because of this shortfall in Defra funding and the report in the Sunday Telegraph was not accurate when it named the three waterways in question.
"What is clear however is that nothing can be ruled out into the future. And that is a future not of just next week, or next month, or even next year, it's a medium term future, because Defra's current thinking will affect waterways into the medium term future.
"With a possible shortfall of up to £60m over the next five years (rightly budgeted for in BW's medium term plans for continuing improvements to the waterways), serious consequences from underfunding cannot be underestimated. BW has been unable to rule any options out since the extent of the current cuts and those forecast for future years have been known. Job losses have already occurred, as has a scale back of £5.5m in maintenance over the coming winter period. The future of the existing network and the prospects for future restoration schemes must be seen in a dim light at the present time."
While it is comforting to know that the three canals named in the newspaper have not been earmarked for closure, they must be considered to be more at threat than some other waterways. Fewer boats and businesses would be affected by the closure of these canals compared with many others, so some apprehension must remain.
It has been suggested that if any further catastrophe were to befall the Rochdale Canal, then funding for the necessary repairs will not be available.
Various groups and organisations have started campaigning to have BW's lost funding re-instated. A new website has been created to help ordinary boaters, walkers, canal users and enthusiasts to play a part in fighting against the cuts.
Please take some time to visit www.saveourwaterways.org to find out more about the situation and how you can help. The website is new and changing daily so please check it from time to time.
(External links open in new windows)
Huddersfield bridge disappears!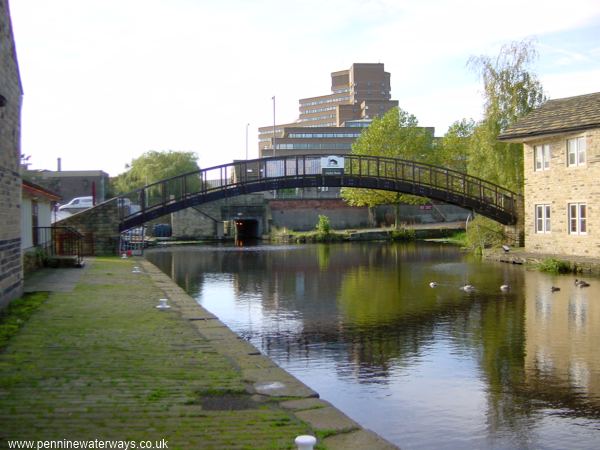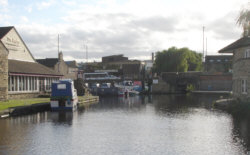 October 7th 2006
A familiar bridge in Huddersfield has gone - for now!
The low-arched wooden footbridge which spanned the Huddersfield Broad Canal at Aspley basin for the last 25 years has been taken down.
The bridge had been suffering from rot and has been closed to pedestrians for around five months.
A few days ago, the bridge was lifted from its abutments by crane and dismantled on the canal side.
Visitors who enjoyed seeingthe bridge's graceful shape should not be too alarmed, however, as the bridge is to be replaced with a similar-looking bridge in November.
The replacement will be constructed of treated timber. It is expected to cost over £150,000 and will be paid for by Whitbreads, the brewery which owns The Aspley pub.
Update: The replacement bridge is now in place.
Right top: The footbridge across the Huddersfield Broad Canal at Aspley.
Right bottom: The same location this week with no footbridge!