About a mile west of Huddersfield, Mark Bottoms Bridge, at Stoney Battery, had been replaced by a road over an embankment.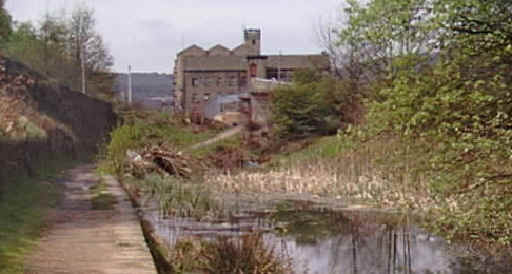 This picture is looking west before restoration started. The canal ahead is culverted and blocked by the embankment.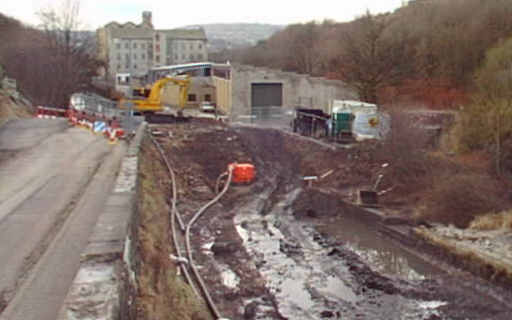 This picture shows the embankment which had replaced the original bridge being removed. A temporary road runs to the left, crossing the canal a few metres upstream of the location of the new bridge.

During the course of the work to remove the embankment across the canal and build a new bridge at Stoney Battery, the original Mark Bottoms stone bridge was uncovered, as the following pictures show: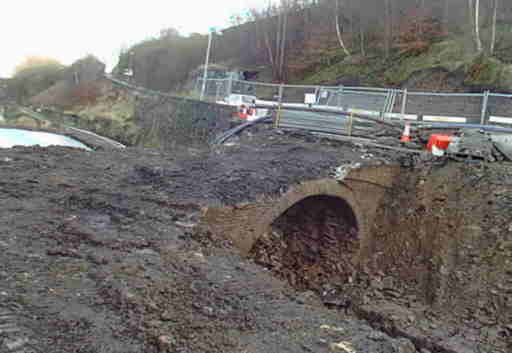 The western side of the old Mark Bottoms Bridge has re-appeared, after being buried under the road embankment. The parapets have gone but the arch structure appears to be intact.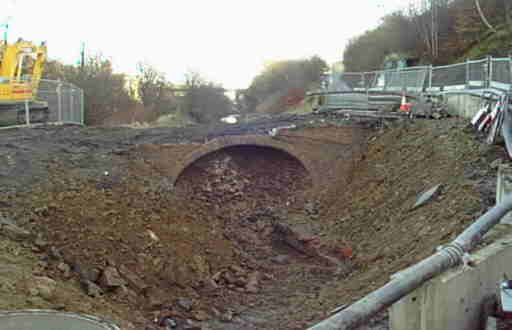 Looking east towards the old Mark Bottoms Bridge. The edge of the towpath can be made out under the bridge. The railway viaduct at Paddock Foot can be seen in the distance.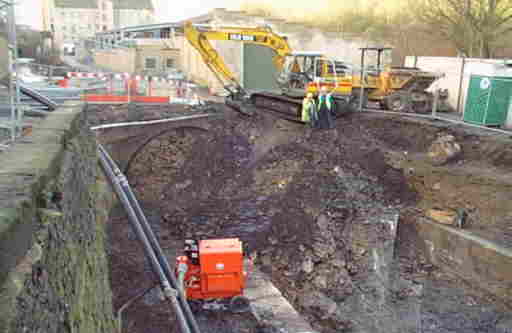 A week later, the eastern side of the bridge has been exposed as well. A few days after this photograph was taken the old bridge was demolished to make way for the new structure which was built in almost the same location. The old bridge was too narrow and the bends on the road too sharp for it to be re-instated for the use of modern traffic to the mills.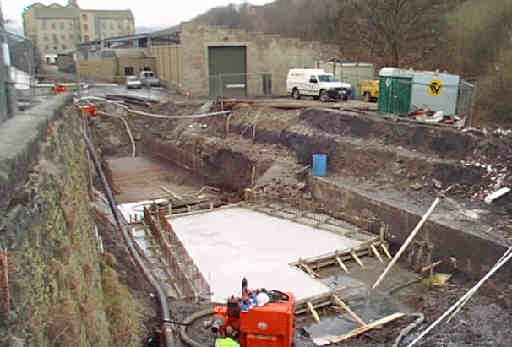 The old bridge was completely removed and concrete bases are being laid for the new bridge and wing walls.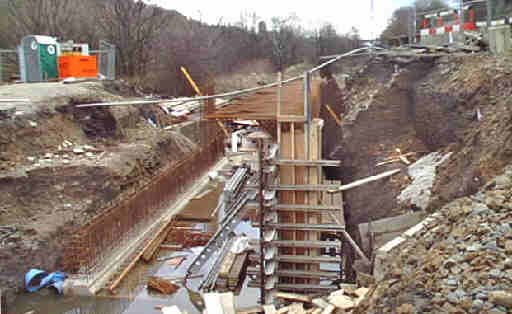 Looking east, showing the steel re-inforcements for the construction of the concrete box culvert. The abutments of the old bridge are still visible on each side.

Next page: Mark Bottoms Bridge - page 2