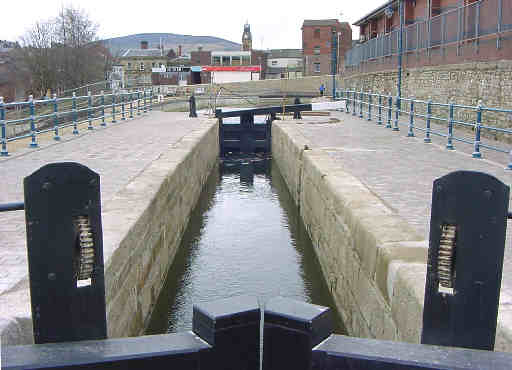 March 17th 2001: Looking east along the restored Lock 5W. A pipe was laid parallel with the lock chamber to carry a by-wash to take excess water past the lock. Lines of holes were drilled parallel to the lock chamber and hollow tines inserted. A jet grouter injected a waterproof barrier to prevent seepage of water. Brick sett paving has been laid on the lock side. The land to the north of the canal has been tidied up and is being landscaped. Railings separate the towpath from the lock side.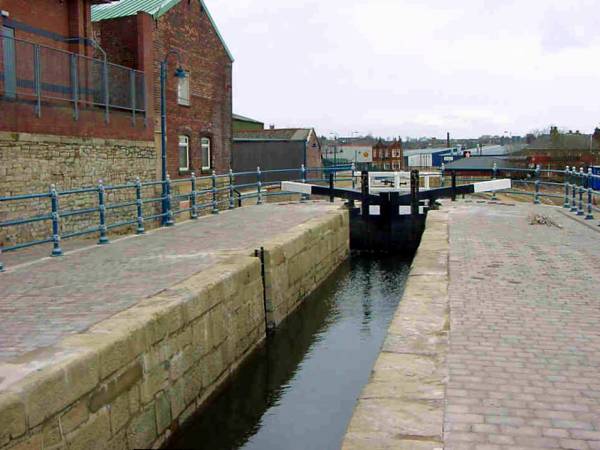 March 17th 2001: Looking west along the completed Lock 5W. The white handrails of the escape ladder (seen in January, above) have been removed.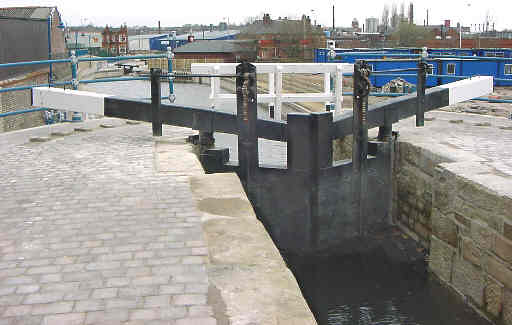 March 17th 2001: The lock tail area complete with gates and tail bridge. The repairs to the north side of the lock are complete. The top layers of the chamber wall have been re-instated. The lock tail gate recess has been re-constructed with stone from Lock 7W. The quoin stones brought from Lock 7W were too worn to provide a watertight joint when the gates are fitted. They have been cut back and steel quoins similar to those used in Lock 6W have been fitted. Here, the steel quoin are in place, with the metal A-frame hinge above. The lock side has been paved and railings put along the back edge.

On November 13th, the lock gates were fitted here at Lock 5W. Because the original quoins had been replaced after the measurements for the gates had been taken, the tail gates had to be returned for some adjustment. They were re-installed on 20th November.

Click here to see photos of the gates being installed on November 13th 2000.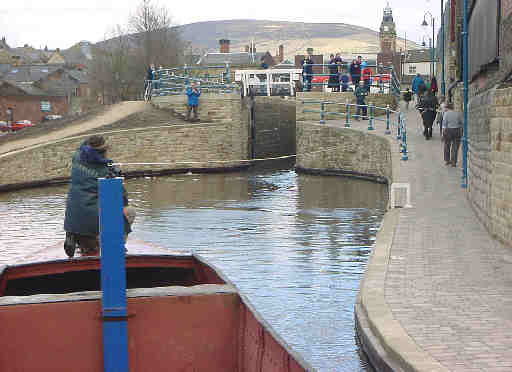 April 10th 2001: Looking east to Lock 5W. The first horse boat is drawn into the restored lock.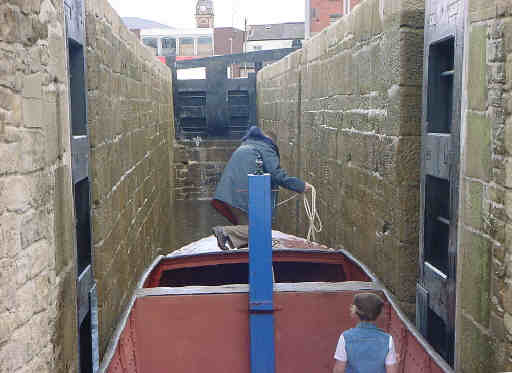 April 10th 2001: In the chamber of Lock 5W.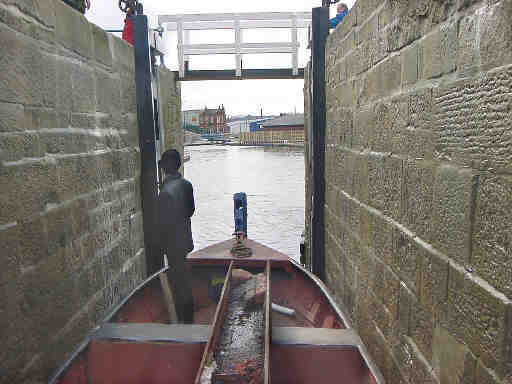 April 10th 2001: Looking west from Lock 5W with Lock 4W in the distance.

Click here to see the gates being installed in Lock 5W.

Next page: Lock 4W, off Caroline Street

My thanks to Tameside Council for providing access to take some of these photographs.