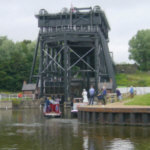 The Cheshire Ring is a circular canal route in the North West of England. The route is 97 miles long as has a total of 92 locks.
The Cheshire Ring takes in the whole of the Macclesfield Canal and parts of the Trent and Mersey, Bridgewater, Rochdale, Ashton and Peak Forest Canals. It provides a complete range of canal scenery, including the upland vistas of the Macclesfield Canal as it skirts the edge of the Pennines, the gentle rolling Cheshire countryside, industrial areas and the lively city centre canalscape of Manchester. It has a variety of canal features including broad and narrow locks, aqueducts and tunnels. It also passes the historic Anderton Boat Lift near Northwich.
The Cheshire Ring can easily be done within one week by a crew of at least two. Lock flights can be completed more quickly with a larger crew, where someone is able to walk ahead and prepare the next lock. The ring usually takes around 50 to 55 hours of cruising time.
Approximate Distances:
Manchester (Castlefield) to Lymm - 13 miles and no locks
Lymm to Preston Brook Junction - 10 miles and no locks
Preston Brook Junction to Anderton - 7 miles, 1 lock and 3 tunnels
Anderton to Middlewich Junction - 10 miles and 4 locks
Middlewich Junction to Kidsgrove (Hardings Wood Junction) - 13 miles and 31 locks
Kidsgrove (Hardings Wood Junction) to Macclesfield - 16 miles and 13 locks
Macclesfield to Marple Junction - 10 miles and no locks
Marple Junction to Ashton (Portland Basin) - 8 miles, 16 locks and 2 tunnels
Ashton (Portland Basin) to Manchester (Castlefield) - 8 miles and 27 locks
(These figures are offered as a rough guide. They are not a suggested daily itinerary.)
Many people will have more time available and may want to add some of the following extensions to the ring, as their time permits:
along the Upper Peak Forest Canal to Whaley Bridge and Bugsworth Basin (7 miles and 4 lift/swing bridges each way)
up the Huddersfield Narrow Canal to Stalybridge (2.5 miles and 7 locks each way)
up the Huddersfield Narrow Canal to Uppermill (8 miles and 21 locks each way)
along the Bridgewater Canal to Barton Swing Aqueduct and Worsley (4.5 miles each way)
along the Bridgewater Canal to Runcorn (mostly urban, 4.5 miles each way)
down the Anderton Lift and onto the River Weaver (to Winsford Bridge, 7 miles and 2 locks each way, to Weston Point, 13 miles and 2 locks each way)
through Harecastle Tunnel to Etruria, then along the Caldon Canal to Leek and Consall Forge or Froghall (up to 25 miles and 18 locks each way)
The Cheshire Ring is also a popular walking route. There is a towpath along the entire route, except through Hyde Bank Tunnel, near Romiley, Preston Brook Tunnel, near Runcorn, and Saltersford and Barnton Tunnels, near Anderton, where there are direct paths over the tops of the tunnels.
Some boaters have been put off the Cheshire Ring by stories of trouble in the Manchester area, especially on the Ashton Canal. These stories are now very much out of date! In the 1980s there were times when boats needed to be escorted through the area! Be assured that this is no longer the case - the Ashton Canal is now no worse than other urban canals and has been greatly improved with the construction of the Commonwealth Games facilities alongside.
Nevertheless, boaters should be prudent when passing through any urban areas, especially those with lock flights. This includes locking the front cabin doors and putting valuables such as cameras out of sight. Where possible plan your journey so that you pass through urban areas during school term times. Where holidays or weekends cannot be avoided, plan to pass through the areas early in the day. For instance, the Ashton Canal typically takes 3 to 4 hours so can easily be done in a morning. However, even boaters passing through this area on weekend afternoons have experienced no trouble. "Incidents" can occur anywhere on the canal system - even in rural areas - so don't be afraid to venture into urban areas where the industrial archaeology can be very interesting. The contrasts along the route are part of what makes the Cheshire Ring so rewarding!