A colourful mural has brightened up a dark corner of the Rochdale Canal. For many years, the tunnel below Piccadilly, which includes Lock 85, has been a neglected and menacing area. In readiness for the re-opening of the whole Rochdale Canal, the tunnel area was improved, with better lighting, dark recesses blocked off by panelling and a new walkway avoiding the need to walk around the edge of the underground area. The new mural brightens the panelling.

The massive mural, sited along the side of the tunnel, close to Lock 85, was designed by canal boat painter Philip Speight and undertaken by members of the city centre business and residential communities as part of the Manchester Waterways Initiative.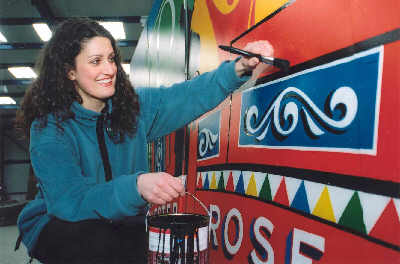 Jenny Carter, British Waterways Project Manager Rochdale Canal.
Photo: British Waterways

The mural consists of five individual panels, each measuring 17 feet wide by 8 feet high, totalling 85 feet in length and covers a series of unsightly recesses in the tunnel connecting Piccadilly Basin with Canal Street.

The new mural at Piccadilly Lock brightens up the scene for walkers and boaters along the Rochdale Canal.
Photo: British Waterways
The mural celebrates in art the cultural heritage of Manchester, from the industrial revolution through to the Commonwealth Games. Its centrepieces are renditions of the Commonwealth Games 2002 logo and the canal boat 'Manchester Rose 2002', emphasising the importance that year played in rejuvenating the city's 20 mile waterway system.

Project Manager for Manchester Waterways Initiative Jenny Carter said the partnership venture would deliver lasting benefits for the wider community.
"The aim has been to regenerate a central but depressed area of the city, making it a brighter, safer place for people walking or using the canal," said Ms Carter.

The mural is at the heart of a raft of measures designed to achieve this, which include 24 hour CCTV to reduce anti-social behaviour, improved lighting and the re-location of the canal towpath by British Waterways from around the edge of the tunnel area to a new bridge walkway across the basin, creating a more attractive, direct route for pedestrians.

Ms Carter says the project - a joint venture between the Manchester Waterways Initiative and Piccadilly Village Residents Association – was an example of community partnership in action. Funding came from The Waterways Trust, Environmental Campaigns Northwest and Manchester City Council.

"Twenty volunteer painters, including city centre residents and local businesses put long hours into the project and it is gratifying for everyone involved to see such a positive result," said Ms Carter.
Source: British Waterways