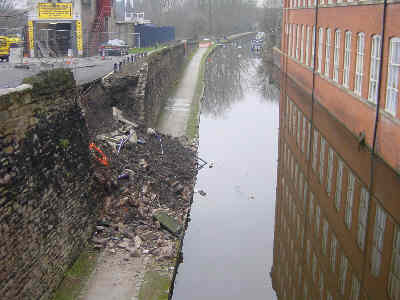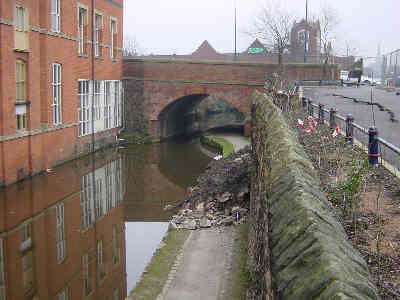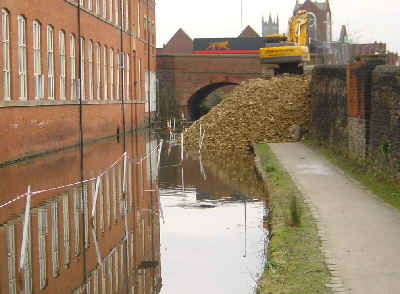 February 2002
The Ashton Canal was closed from about February 13th 2002 between Portland Basin and Asda Tunnel, due to the collapse of a retaining wall opposite Cavendish Mill.
A barrier was erected across the canal and the stretch of towpath is closed although an alternative pedestrian route is available parrallel to the towpath above the retaining wall.
Large cracks were evident in the ground around the collapse and a section of wall was leaning slightly outwards meaning that a further collapse was possible.
Contractors Dew Pitchmastic, working for British Waterways, have stabilised the embankment to make it safe. To do this they have used over 1,200 tonnes of hardcore to shore up the wall around the collapse, as shown in the photos below.
The area will be fenced off and the towpath will remain closed, although boats may now pass the scene by keeping to the side of the canal next to the mill.
This is a temporary measure until a permanent repair of the wall is carried out. This will involve sinking a line of piles behind the original line of the wall. A stone wall will be constructed tied into the outer face of the piling to match the remainder of the wall.
There is reported to be a dispute about who owns the land and who is responsible for paying for the work to be carried out.
Update: The situation here remains the same in 2006. The hardcore has been seeded with plants to make it more difficult for stones to be thrown at the mill windows.