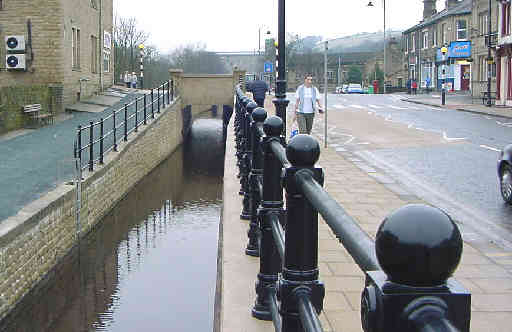 Looking west to the completed new bridge at Britannia Road. Concrete retaining walls have been built on each side of the channel and have been clad with stone as have the bridge parapets. Railings have been added above the retaining wall below Carr Lane, where the footpath has been re-instated, and on the towpath side. A steel escape ladder has been fitted as the paths are fairly high above water level along this stretch.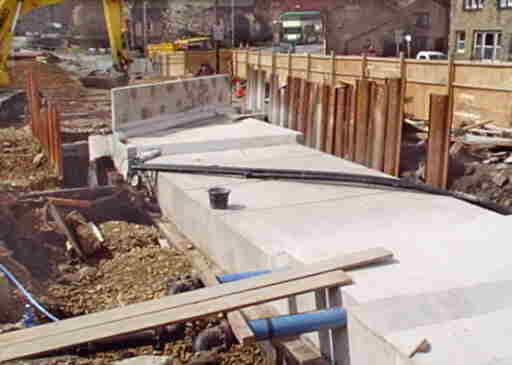 The first phase of the construction of Britannia Road bridge. Sheet piles had been extended westwards from the site of the original bridge. Concrete pre-cast box culvert sections were placed into the channel. The space around the box culvert have since been filled in again. This picture shows the section of box culvert almost complete with service pipes re-routed across it.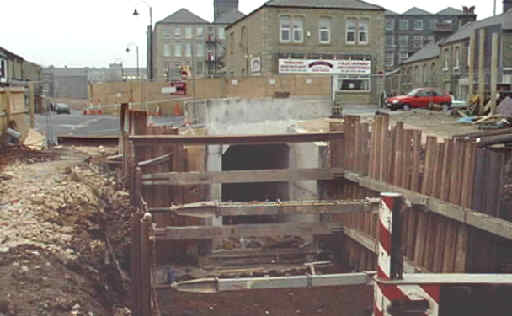 A few months later, after a roadway had been constructed over this first phase, traffic was diverted across it, while work switched to the eastern half of the bridge, in the background.


The curving stonework of the side wall of the original Britannia Road arch can be seen behind the box culvert sections. This gives an idea of how much higher the old bridge was than the one now under construction. The gaps in the tunnel roof are for pipe and cable ducts.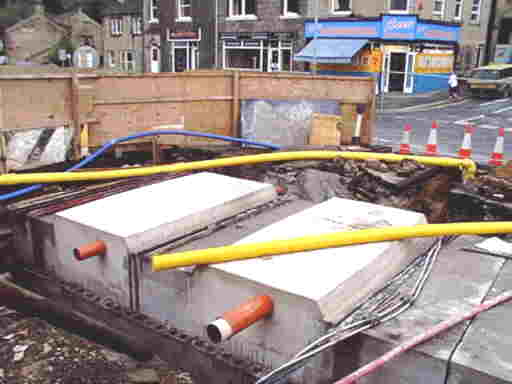 Two of the top sections of the box-culvert bridge tunnel were constructed in situ to create ducts for cables and pipes to cross.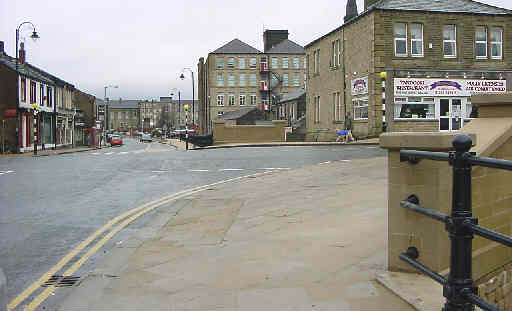 Looking east across Britannia Road. The box culvert tunnel runs below. The concrete parapet above the bridge portal has been clad in stone. The kerbs and pavements have been laid on each side of the road. The new roadway has been opened to two-way traffic and the one-way system has now ended.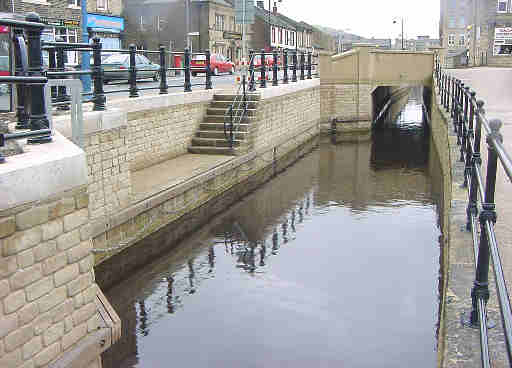 Looking east towards the completed bridge at Britannia Road. The bridge here had originally been a hump bridge but its use by modern lorries meant that a flat bridge was necessary. The new channel between Locks 22E and 23E has been constructed a little lower that the original but, even so, this bridge has a low headroom for boats. A landing platform has been constructed alongside Market Place. The water in this section is now at its full depth.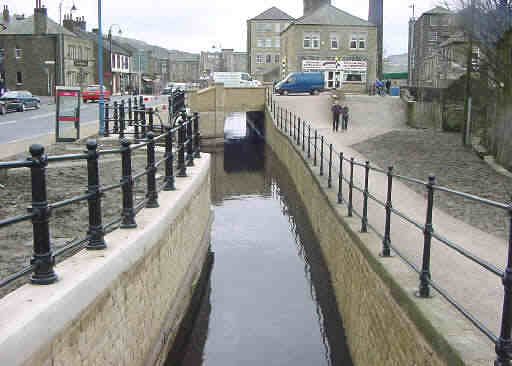 Looking east towards Britannia Road bridge from the new bridge at Old Bank. The rather high "towpath" has being levelled and given a rough surface. Railings have been fitted.