These pages shows photographs taken during the restoration of the Huddersfield Narrow Canal under Bates' Mill, Huddersfield.
At Bates and Co mills, off Queen Street, Huddersfield, two buildings were built over the line of the canal when it was closed. In order to re-open the canal, a tunnel had to be contructed below these buildings. Lock 2 East, originally east of the site, had to be re-positioned to the west so that the canal could run below the buildings approximately ten feet lower than its original level.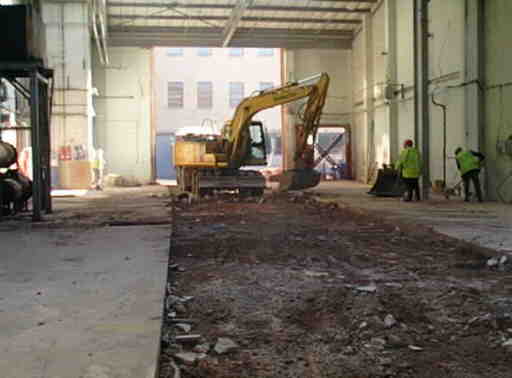 Inside Bates and Co's teasing shed, immediately east of the new Lock 2E as work started. Firtly the concrete floor is broken up along the line of the new tunnel. This building normally houses large machinery and had to be returned to use quickly.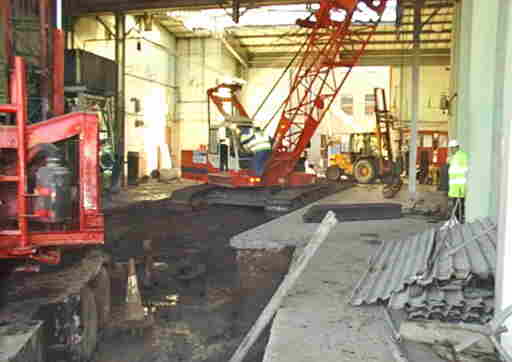 This picture shows the difficult cramped conditions in which the work took place.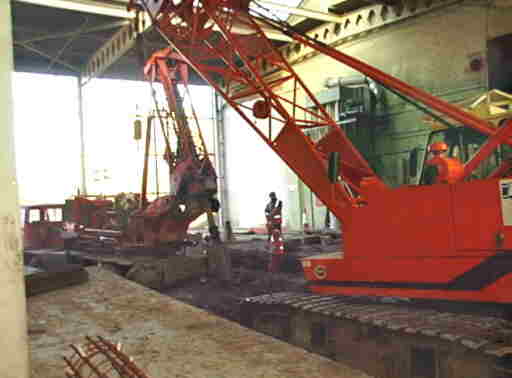 The line of the canal had been partly excavated and an auger rig brought in to drill down in preparation for constructing steel re-inforced concrete tunnel walls. A pile driver could not be used because of the limited headroom. A sectional roof was placed over the tunnel and the building returned to use. The contractors then completed the excavation and constructed the tunnel floor working from the outside of the building.

By Easter, 2000, work in the teasing shed was complete and the contractors had started work in the carding shed, which has even less headroom. The canal had been filled with large rocks and stones, which had to be removed before the 600mm diameter concrete piles could be cast.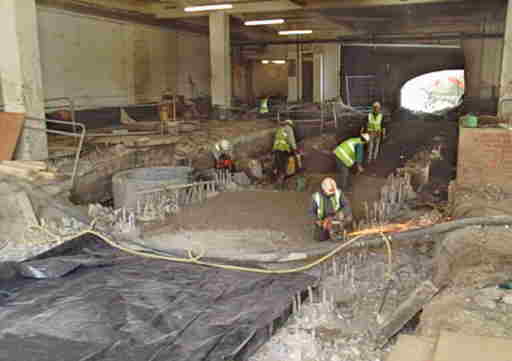 The tops of the concrete piles can be seen crossing the floor in two lines. These piles will become the tunnel wall. The tunnel roof was then laid across between the piles.

When the piles and the tunnel roof were completed, the building was returned to use by Bates and Co. Costain then tunnelled underneath the buildings, between the pile walls, from the west end of the site, next to the location for the new Lock 2E.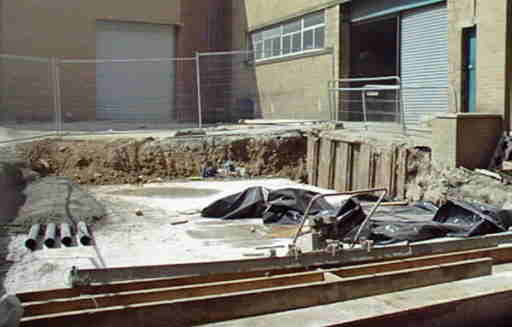 Looking west from the carding shed. The tunnel work has already been carried out in the teasing shed in the background. The picture shows a section of tunnel roof about to be covered over, below the yard between the buildings.


Most of the work on constructing the pile walls and tunnel roof has been completed and covered over again.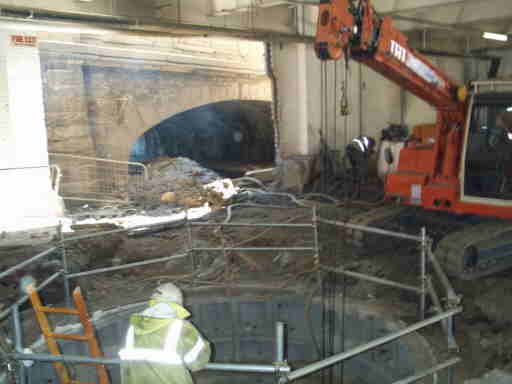 (Photo: Costain Ltd.)

This deep shaft is part of the work to divert major sewers to accommodate the new canal channel. The Queen Street bridge and the towpath beyond can be seen through the hole in the wall.

Next page: Bates' Tunnel - page 2

My thanks to Costain Ltd for providing access to take these photographs.