These pages shows photographs taken during the restoration of the Huddersfield Narrow Canal through Huddersfield. There had been two major blockages of the canal here. Just west of Queen Street South Bridge, Bates and Company had built an extension to their factory across the line of the canal. A little further west, to the west of the A616 Chapel Hill, a 400 metre stretch of canal had been culverted and infilled with a modern building erected across the route. In both cases, the solution was to re-locate a lock from the east to the west of the blockage, enabling a tunnel to be constructed below the site.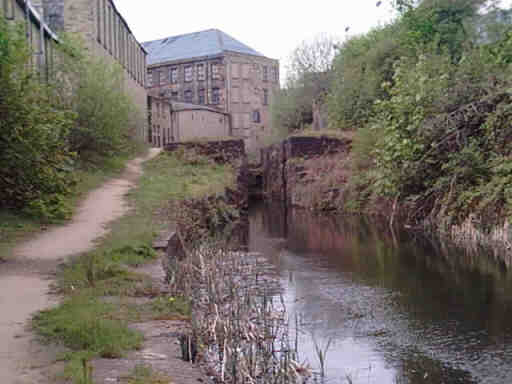 Approaching the blockage from the direction of Aspley Basin, the canal was in water as far as the old Lock 2E, seen here without gates. In order to pass below the Bates' factory, the canal will continue straight through this lock chamber at the same level, through a tunnel to a new lock beyond the factory.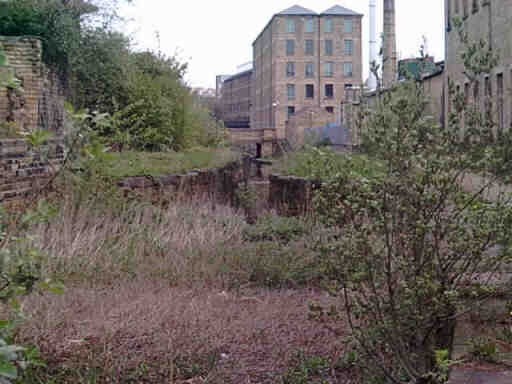 Looking east to the old Lock 2E before work started. The channel above the lock is overgrown and almost dry.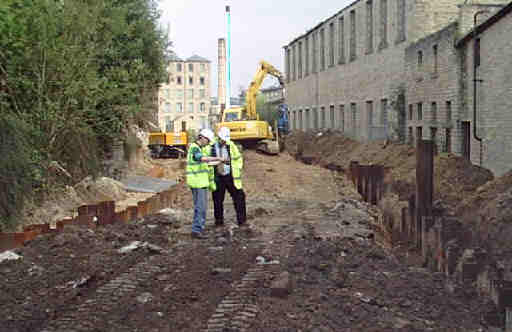 Work here started in August 2000: In order to deepen the channel it was first necessary to fill it in to allow access for the heavy pile driving machinery to sink the two rows of sheet piles. These will form the walls of the deep channel linking the old lock chamber and the tunnel below Bates and Co. The channel will then be excavated to a depth of around 5 metres. The two rows of piles can be seen in this picture.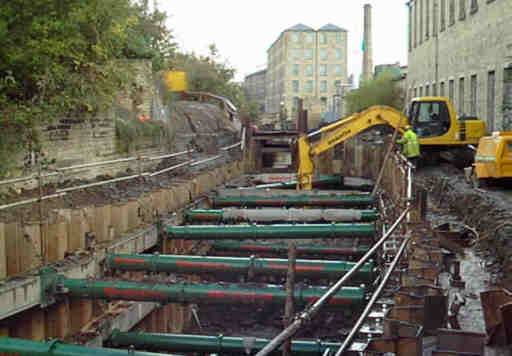 By October, the channel between Queen Street bridge and the old lock chamber is being excavated. Hydraulic jacks keep the sheet piles rigid. A temporary access road to the left and bridge across the lock chamber have been made to provide access for vehicles and machinery.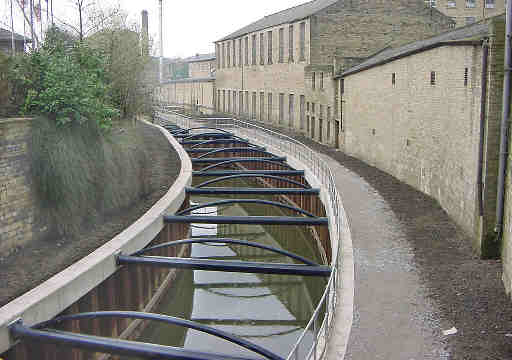 By April 2001, concrete capping beams have been constructed along the tops of the sheet pile walls. Black support struts strengthen the walls. The work here is now complete and the channel is in several feet of water. In the above picture, the new channel can be seen narrowing as it joins into the old lock chamber.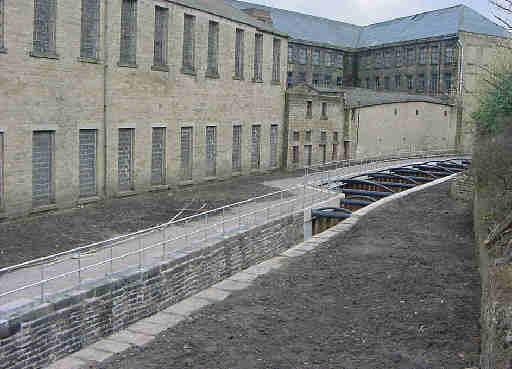 The channel narrows to pass through the preserved and re-pointed chamber of the original Lock 2E.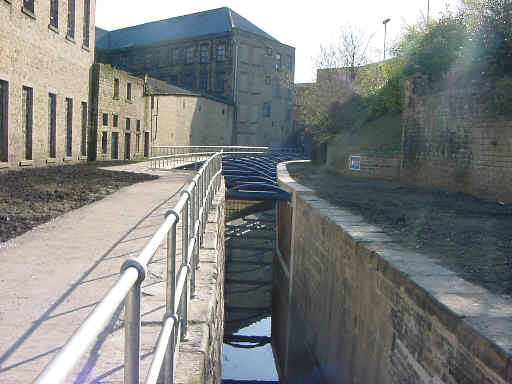 The original lock chamber looking towards the new channel.

Next page: Channel between old lock and Queen Street bridge

My thanks to Costain Ltd for providing access to take some of these photographs.