The last phase of the canal restoration work through Stalybridge was from Back Melbourne Street to Caroline Street, began in March 2000.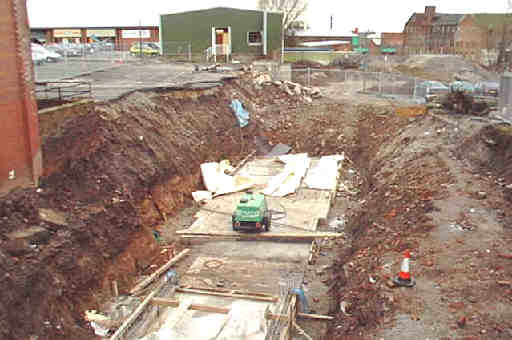 Looking west from Melbourne Street. The canal had been filled in to the level of the street and a new service road (Back Melbourne Street) built across it. A footpath linked the service road with Melbourne Street. In this photograph, the line of the canal has been excavated and a concrete base lasi for the new bridge to carry Back Melbourne Street.

The green building above is part of the former Tetlow building. The line of the canal curves to the left behind this building. When the right hand part of the building, which was across the line of the canal, was demolished, the facade of an original canalside warehouse was discovered inside. It had been hoped to retain the facade and re-furbish the building behind it but it has now been demolished.
Click here to see picture of warehouse facade before demolition.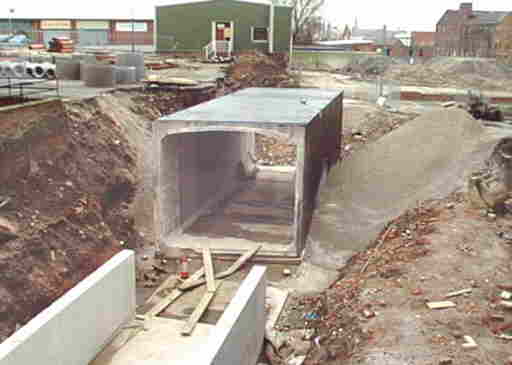 The pre-cast concrete sections for the box-culvert tunnel have been put into position on the base.

Work in this area stopped dramatically on 20th March 2000 when excavation work for drainage pipes to the left of the bridge brought two skulls and other human remains to light. The bones were found to be very old - probably over 100 years - and were probably from a burial ground which ran along the back of Melbourne Street between Bethel Chapel on Grosvenor Street and the canal. When the canal was filled in and the area redeveloped, most of the remains were exhumed and taken to Dukinfield Cemetery and the burial ground turned into a car park.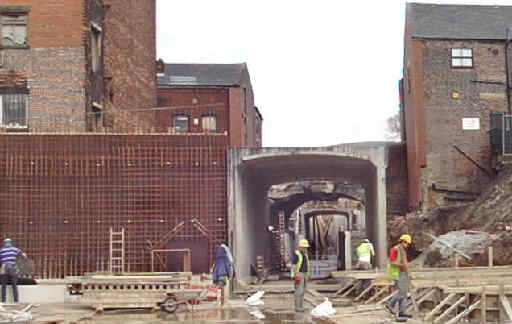 Looking east towards the new bridge, with Melbourne Street bridge beyond.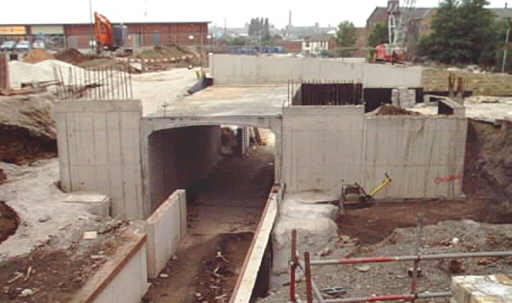 Concrete wing walls and parapets are being constructed. The Tetley building has been demolished.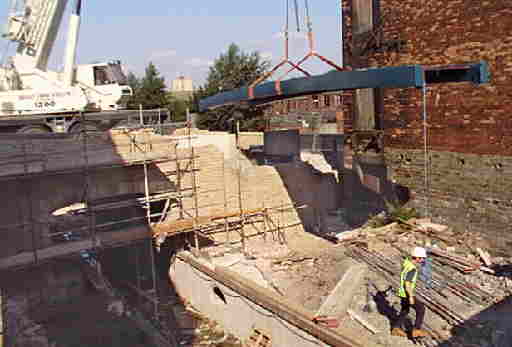 The new footbridge that will link Melbourne Street bridge to Back Melbourne Street is being lowered into place. This bridge will give access to the shoppers' car parks, replacing the footpath that had been built along the line of the canal. The concrete walls of the bridge are being clad with stone.


The bridge is placed carefully into position.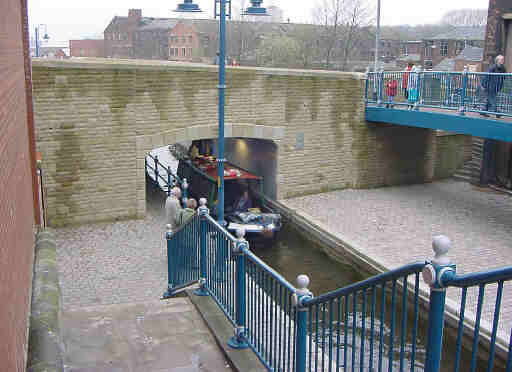 Looking west to Back Melbourne Street bridge. The stone cladding on the parapet is finished. The footbridge has been fitted with handrails and is open to pedestrians. On the left, steps have been constructed down to the towpath from Melbourne Street.


Looking east towards Back Melbourne Street. The stone clad wall shows where the road slopes up from the left. A car park is behind the retaining wall to the right of the towpath.

My thanks to Tameside Council for providing access to take some of these photographs.