Ed Mortimer muses over a future for the abandoned Hollinwood Branch of the Ashton Canal:


Walking the Past


In 1975 I walked from Portland Basin up the Huddersfield Narrow Canal to Stalybridge. Most of the canal was built over, and I knew nothing could be done: the canal through Stalybridge was lost forever.



Now it is 2003 and I live in a house right next to the canal in Stalybridge. The canal has been rebuilt and the town transformed. There is a new town square and I walk the towpath to do my weekly shopping.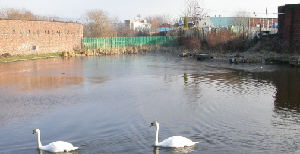 The entrance to the Hollinwood Branch Canal at Fairfield Junction. Photo: Bob Gough


Recently I walked the route of the Hollinwood Branch. I'd walked it before. Derelict and forgotten. Bits built over. It reminded me of my walk along the HNC 28 years ago. When I got back home, I looked again at the maps. I could see that a short link had been proposed in 1791 between the Hollinwood Branch and the Rochdale Canal. If this was built, could Hollinwood and Droylsden experience the same regeneration as Stalybridge. Should anything be done?


Let's go to Hollinwood


My walk to Hollinwood started at Fairfield Junction, (the start of the Hollinwood Branch), above the 18 locks that drop the Ashton Canal down to Manchester. Now the junction is just a wide winding hole. The start of the Branch is filled in. Almost immediately on the left there was a short arm (also filled in) with a towpath bridge over it, the remains of which are clearly visible.



The towpath is on the left hand side and remains so all the way to Hollinwood.



This first section of the Branch is currently the subject of redevelopment proposals. The proposals do not include the provision of the canal route through to the first bridge. The bridge still exists, carrying the present day A662. I had the feeling of being at a 'canal zoo' peering through the safety railings at the time-locked exhibit below! (see picture, right)


Next page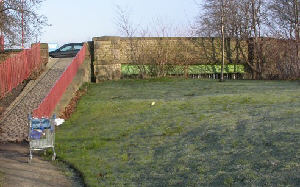 Manchester Road Bridge, Droylsden. (Shopping trolleys even have an affinity with in-filled canals!) Photo: Bob Gough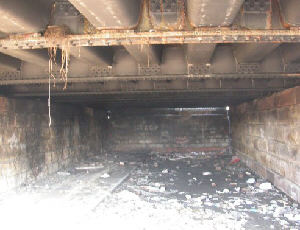 Beneath Manchester Road Bridge, Droylsden.
Photo: Bob Gough